Reflections on Christmas 2007, Children and Gratitude to God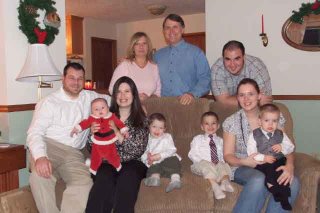 I posted a blog three days ago about Iowa caucus, in case you missed it. But I'm moving on to reflect on family.
This was our first Christmas with family numbered in double digits. Nanci and I are deeply grateful for our wonderful daughters, our awesome sons-in-law and our four priceless grandsons. Including Jack, little Santa.

A week before Christmas, Angie and Karina and I attended the father/daughter banquet at Good Shepherd Community Church. It was a great evening. One of the highlights was expressing our love and appreciation for each other. And I love to hear the girls talk mom-talk.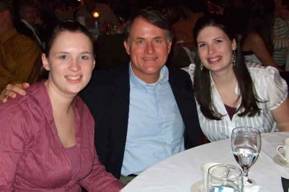 I have always had the deepest respect for my daughters and their mother. And as the years go on, my respect continues to increase. They are great women, great wives, great moms and great daughters. Nanci and I couldn't ask for more. We are overwhelmed with gratitude to God for them.
Jesus said, "Truly, I say to you, unless you turn and become like children, you will never enter the kingdom of heaven." (Matthew 18:3). We learned so much from our children as they grew up. They were a revelation of God to us. And now God is speaking to them, and us, through their children.
Snow falling Christmas day. Though the family gathered on Christmas Eve, we immediately got on the phone the next day to celebrate the white Christmas with them. I grew up less than two miles from the house we've now lived in for thirty years, and Christmas snow is very rare. It snowed a lot more when I was a kid, and I have great memories of three or four feet of snow and sledding with my brother and friends.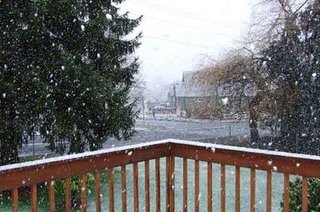 Christmas day through my office window (behind our house; no, I wasn't working). Snow didn't stick much, but sure was fun.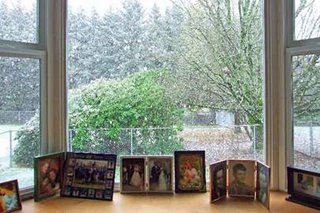 Ty and Jake Stump do dress up. Dress up is very rare in Oregon. I do it myself as little as possible. But the guys thought it was pretty cool, and so did we.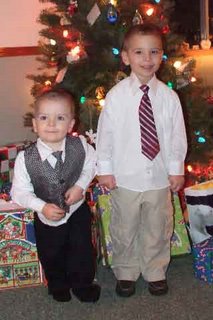 Jack Franklin, in one of those pics that will be good for a laugh in his wedding slide show. I'll blame his grandmother. Of course, I took the picture, but we won't have to tell him that.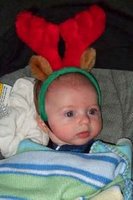 Matthew Franklin, just in from the cold, assuming a position by the tree, asking if it's time to open presents yet. Matty's a party guy.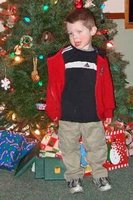 Dan and Angela Stump, with Jake and Ty, finding treats in their Christmas stockings, lovingly stuffed by their grandma.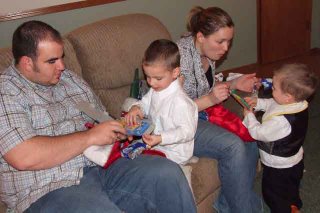 Dan, Karina and Matt Franklin. Seems like yesterday our little girls were the size of these little boys.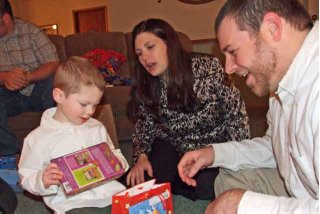 Nanci with Jack Franklin. Nanci has that look of "my family is here and happy, so for this moment, all is well." Nanci's the life of the party, laughing and making the rest of us laugh. All the grandsons love her. So do I. So does Moses, our Dalmatian.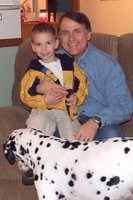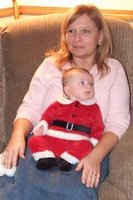 The main room in my home office, where four of our staff worked before moving seven miles last year to our new office in Sandy. Where desks and work stations used to be is now the fun room. The Little Tykes adjustable basketball hoop should be good for years, as it raises to six feet. Total gym in background. I'm teaching my grandsons to play tennis, but other sports may prevail. Who knows, maybe one day they'll be on the high school tennis team I help coach.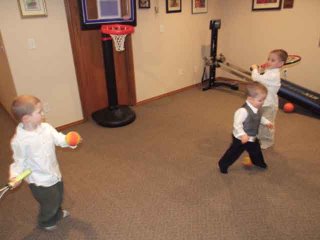 Ty LOVES "baketball" and can't get enough of it.

Jesus said, "Let the little children come to me and do not hinder them, for to such belongs the kingdom of heaven." (Matthew 19:14).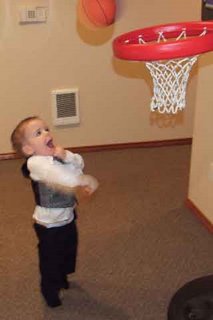 "Sons are a heritage from the LORD, children a reward from him" (Psalm 127:3).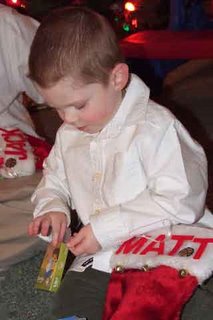 Action at the kids' table. Jake accidentally fell, then Matt deliberately fell and Ty followed. Most of dinner was spent falling, which was more fun than eating. At the adult table we really enjoyed the eating, and seldom fell.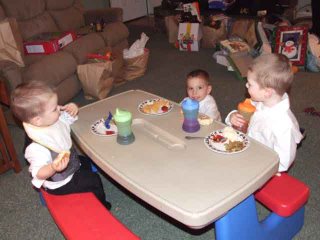 Uncle Dan Franklin gives thrill ride to nephew Ty Stump.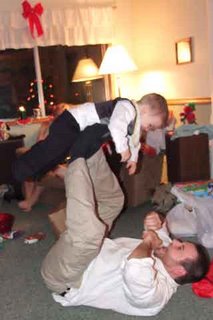 We've found that plastic bowling balls and pins are better in the kitchen than the real thing. Live and learn.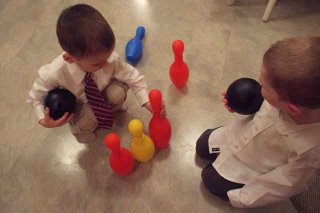 Jack's the man. One day he'll be able to choose his own clothing. But for now, we'll take advantage of him.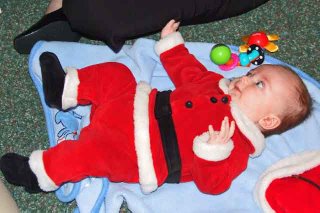 Jake and Angie. Jake's examining his new Donut Man DVD. He can't wait to watch it. I'm sure Angie can't either. She could barely contain herself.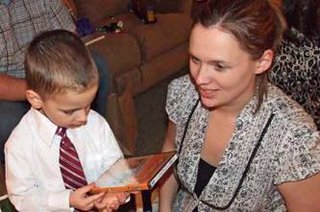 Karina and Jack. This one's likely going to make it into the wedding slide show too. But we'll let him grow up first.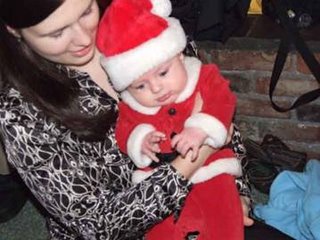 Jake and Ty tend to cousin Jack, before he put on the Santa outfit. Ty knows the importance of reinserting the binky. He gets the assist.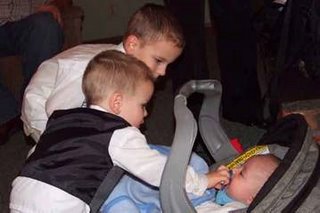 Matthew offers a gift. It is more blessed to give than to receive, Jesus said in Acts 20:35.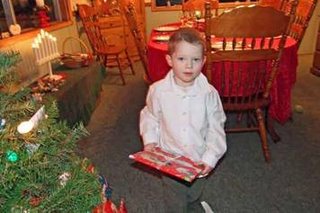 I'll end with one of those Christmas verses that isn't considered a Christmas verse, 2 Corinthians 8:9: "For we know the grace of our Lord Jesus Christ, that though he was rich, yet for our sakes he became poor, that we through his poverty might become rich."

How rich we all are who know and love Jesus. We who deserve Hell will forever enjoy Heaven. We'll enjoy the great reunion with loved ones and all who know Jesus. And the best part will be enjoying God's presence and worshipping Him forever. All made possible by the first Christmas, the incarnation that led to redemption.