Nourishment for the Soul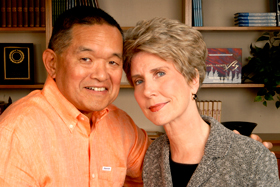 Joni Eareckson Tada announced this week that she has been diagnosed with breast cancer. (Read her blog post, written in her typically Christ-centered way.)
Over the years Joni has become a dear friend to Nanci and me, and we also deeply appreciate her husband Ken. I interviewed Joni and quote from her often in If God is Good, and she is one of the people I dedicated the book to. (She is the founder and CEO of Joni and Friends, a wonderful ministry to the disabled. Check them out at www.joniandfriends.org. JAF is a ministry worthy of support, an investment in eternity.)
Last week Nanci and I spent an afternoon and evening with our dear friend Sono Harris, and her husband Gregg, and their wonderful children. Sono suffers from an advanced cancer. We considered it a great privilege to be with the Harris family, reading Scripture and praying and laughing and crying and having dinner together.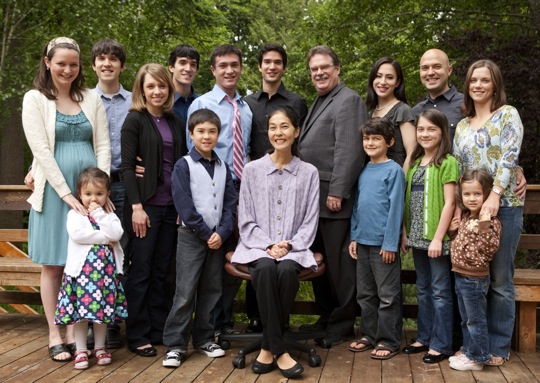 Here's a family photo taken last week. (For an update on Sono, go to Josh Harris's blog.)
I was diagnosed this week as having TMJ, which so far to me just means having a horrible ear ache and a jaw that feels like it was hit by a sledgehammer. (So now I'm not just an insulin-dependent diabetic, but a card-carrying member of the TMJ club.) Over a four day period I went from doctor to doctor, and from Aleve to vicoden to morphine. By day five, when I started feeling better, I had gained great sympathy for people who suffer far worse than I have. The author of Psalm 119 simply says, "I have suffered much."
Psalm 119 is a perfect fit for our friends Sono and Joni, because they are both women of God's Word. Psalm 119 has 176 verses, more than any chapter in the Bible. Nearly all those verses mention God's Word, using various synonyms. It's remarkable how many of the verses speak of affliction. Look carefully at some of them, and contemplate the role of God's Word in dealing with our suffering:
I am laid low in the dust;
preserve my life according to your word. (verse 25)
My soul is weary with sorrow;
strengthen me according to your word. (verse 28)
My comfort in my suffering is this:
Your promise preserves my life. (verse 50)
Before I was afflicted I went astray,
but now I obey your word. (verse 67)
It was good for me to be afflicted
so that I might learn your decrees. (verse 71)
I know, O LORD, that your laws are righteous,
and in faithfulness you have afflicted me. (verse 75)
If your law had not been my delight,
I would have perished in my affliction. (verse 92)
I have suffered much; preserve my life, O LORD,
according to your word. (verse 107)
Trouble and distress have come upon me,
but your commands are my delight. (verse 143)
Look upon my suffering and deliver me,
for I have not forgotten your law. (verse 153)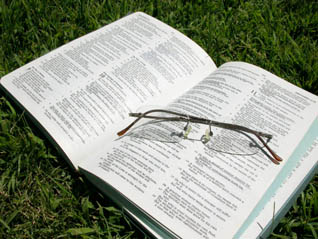 Consider what these verses tell us. God's Word gives us strength in our weariness, and it comforts and sustains us. When not afflicted, we tend to go astray, but God uses our afflictions to help us obey his Word. Without God's Word to sustain us, we will perish in our affliction. God has purpose in our affliction, and one purpose is to know him better through studying his Word. We must not forget God's Word, for it preserves our lives. His Word is a source of delight to us.
Clearly, if we are to face suffering well, if we are not to waste our suffering, we must let it take us to God's Word. If we don't, our loss will be incalculable. If we do, our gain will be abundant and eternal.
I love to look at the books on people's shelves. One night when Nanci and I were at Ken and Joni's home in southern California, I looked through the bookshelves, lined with classic works by great theologians and preachers, including many of my favorites, such as Charles Spurgeon. The books Joni reads are rich and deep, centered in God's Word, food for her soul. No wonder both the life she lives and the books she writes share those same qualities.
Before difficult times come your way, develop habits of studying God's Word, listening to Christ-centered teaching and music, and reading soul-nourishing literature, both nonfiction and fiction. Daily fill the reservoir from which you can draw when facing difficult times—and helping others face theirs.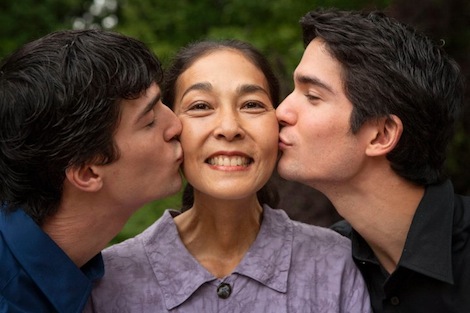 Great peace comes in meditating on the attributes of our God and his care for us. Charles Spurgeon—a favorite of Joni Tada and Sono Harris (pictured here with her twin sons Alex and Brett)—said, "It would be a very sharp and trying experience to me to think that I have an affliction which God never sent me, that the bitter cup was never filled by his hand, that my trials were never measured out by him, nor sent to me by his arrangement of their weight and quantity."
Thank you, Lord, for knowing our limits, and knowing the proper arrangement of the weight and quantity of our suffering. God, as we face our affliction, take us deep into your Word. Let us not be content with empty entertainment and diversions to numb our pain. Your Word doesn't numb us, instead it makes us alive, energizes us, strengthens and sustains and comforts us with truth. It confronts sin in our lives, prompts us to obedience, and gives us delight in you. Remind us that your Word is the source of correction, training, eternal perspective and joyful rest from weariness and sorrow. Thank you for speaking to me in my pain this week, Lord. And for speaking to Nanci and me through our precious sisters Sono and Joni, two of the deepest and most joyful and fruitful people we have ever known. You know our heart's desire for complete healing, Lord, but we yield to your sovereign purposes in their lives and in ours.