Samuel Davies on Christ's Greatest Joy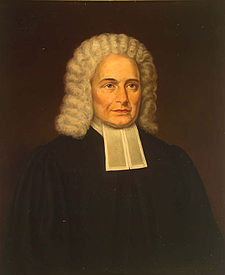 I appreciated this thought from Samuel Davies, an evangelical pastor and educator from the 1700's, especially as we seek to remember and celebrate Christ's death and resurrection in the coming days.
Though many recent writers have spoken of God's vulnerability and weakness demonstrated on the Cross, we must see this truth in the context of God's sovereignty. Christ chose this "weakness."
Christ humbled himself. His obedient death on the cross reflects a deliberate weakness. "The reason my Father loves me," Jesus said, "is that I lay down my life—only to take it up again. No one takes it from me, but I lay it down of my own accord" (John 10:17–18). He willingly chose to suffer as a victim. Scripture portrays a God so strong he can take on weakness to overpower all opposition and accomplish his eternal purposes.
"Out of the anguish of his soul he shall see and be satisfied." (Isaiah 53:11)

"The happiness of Christ's exalted state consists, in a great degree, in the pleasure of seeing the designs of His death accomplished in the conversion and salvation of sinners....

See the strength of the love of Jesus! If you are but saved, He does not begrudge His blood and life for you. Your salvation makes amends for all His sufferings. This He accounts His greatest joy—a joy more than equivalent to all the pains He endured for you. He has full satisfaction for all the sorrows you have caused Him."

—Samuel Davies, "The Sufferings of Christ, and Their Consequent Joys and Blessings"
Photo by Daiga Ellaby on Unsplash