The Master's Touch: Paintings by Ron DiCianni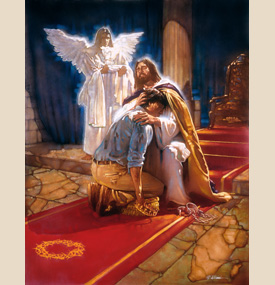 Then the Lord said to Moses, "See, I have chosen Bezalel son of Uri, the son of Hur, of the tribe of Judah, and I have filled him with the Spirit of God, with skill, ability and knowledge in all kinds of crafts—to make artistic designs for work in gold, silver and bronze, to cut and set stones, to work in wood, and to engage in all kinds of craftsmanship." (Exodus 31:1-5)
I first met artist Ron DiCianni many years ago at the Christian Bookseller's Convention (now called ICRS). We had a warm chat, and he signed one of his prints and gave it to me. I admired his paintings; he enjoyed reading my books. Eventually Ron Beers from Tyndale House asked me to write a novel inspired by Ron's powerful painting called Safely Home. It's the one that's inside the cover of each copy of the book. The painting Ron sent me still hangs on my office wall.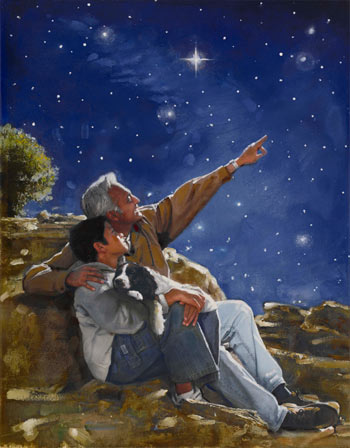 Later Ron asked me to write a children's book on Heaven, called Tell Me About Heaven. It contains eleven of his fantastic paintings, eight of them created specifically for the book. And three of those paintings hang on our walls as well. I gaze at them often. Among them is this one I wrote out my idea for, and Ron painted so magnificently: a grandfather with his grandson, gazing up at the stars. I named the boy Jake (my oldest grandson), and the Springer Spaniel was inspired by our dog Champ. (Just last month I slept outside with four of my grandsons, pointing up at the stars and telling them their names, our dog Maggie with us. It was glorious.)
Ron's desire is to reclaim the arts for the glory of Christ. Earlier this year he completed the stunning Resurrection Mural, which is displayed at the Museum of Biblical Arts in Dallas.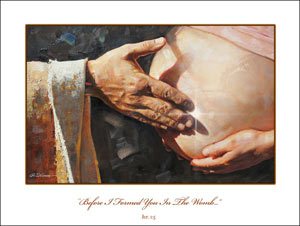 Another of Ron's projects is a new painting titled Before I Formed You in the Womb… inspired by Jeremiah 1:5: "Before I formed you in the womb I knew you, and before you were born I consecrated you." It is a statement that each life, as we're told in Scripture, is known and crafted by God for a purpose.
In the artist's note, Ron explains that he himself is an abortion survivor:
As one who almost never had the chance to become what God had planned for me, I know firsthand the special meaning of what God told Jeremiah.

"Before I formed you in the womb I knew you, before you were born I set you apart..."

My mom had stopped her abortion attempt just as the procedure began, because she heard the voice of God saying to her, "Don't do this... I have a plan for this baby."

God has a plan for every baby He has formed in the womb. Many have never seen the light of day, or gotten to become what He knew they could. I wonder if, through abortion, we have killed the person who was to have found the cure for cancer? Have we cut short the life that was supposed to become a righteous leader to end needless suffering in the world? Chances are, we have.

This painting is a visual translation of Psalm 139. "For You created my inmost being; You knit me together in my mother's womb. I praise You for I am fearfully and wonderfully made; Your works are wonderful." If we could reach back into time and allow each child to be born, we would be a better world. Since we can't, I'm hoping we will allow a future that will give each child the opportunity to live. Look at the painting closely and you will see a cross formed by the shadow of Christ's hand. That's the measure of His love for every baby. He died so they wouldn't have to.

—Ron DiCianni
A major portion of each print of Before I Formed You in the Womb… goes to fund pro-life efforts, including the 180 Movie project and pro-life pregnancy centers.
Ron has become a good friend over the years, and I thank God for a brother who uses his gifts well. You can see more of Ron's beautiful paintings at www.tapestryproductions.com.