Steve Saint Speaks from His Hospital Bed
When I was a brand new Christian in 1969 I heard the story of the five missionary martyrs in Ecuador. It had a powerful effect on my life, one that has never diminished.
Some years ago Steve Saint and I became friends. He came to our church within a week of the 50th anniversary of the death of those missionaries, and I interviewed him and Mincaye, the former warrior who was one of the murderers of the missionaries, but who later came to faith in Christ. (In the photo, Steve is on my left and Mincaye is on my right.) I invited Steve McCully, son of Ed McCully (one of the other martyrs) to share in one of our services that weekend. (In the photo, Steve McCully is on the far right.)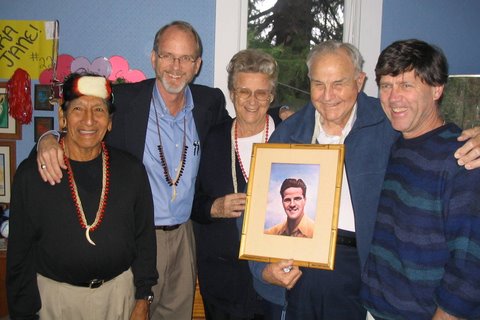 In one of God's powerful redemptive stories, Mincaye, one of his father's killers, became a father-figure to Steve. You can see the closeness of their relationship in this excerpt of the fifty-minute interview I did with them at my church. That same day Nanci and I went with Steve Saint, Steve McCully and Mincaye to have dinner in the home in Portland where Jim Elliot grew up. It was there that I met Jim's brother Bert who I've written about, and who recently went home to be with Jesus. The time at the Elliot house, with family members of three of the five martyrs, was incredible, and unforgettable.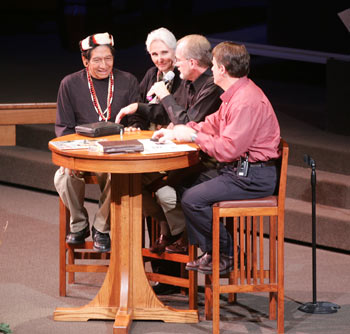 Another time I'll never forget is when Steve's mother, Marge Saint, was dying in a hospital. Marge wanted me to know how much my Heaven book had meant to her. So Steve called me, then put the phone up to his mother's ear. On the other end of the line I heard a breathy, tired voice that spoke with an almost supernatural exuberance: "Thank you!" I wept and wept. To think by God's grace one of my books had a ministry to the widow of Nate Saint, whose story had such a profound impact on me over forty years ago! Steve called me just a day later to tell me his mother was now with Jesus. I wept again to think about Nate and Marge Saint being reunited fifty-some years after his death.
Steve Saint founded ITEC, Indigenous People's Technology and Education Center. They develop tools, technology and training systems for indigenous God-followers to reach their own people with the gospel of Christ through meeting their physical needs (see www.itecusa.org). Steve is an entrepreneur whose flying car has captured the imagination of many. As I noted on my Facebook page, last week he was seriously injured while testing a design for ITEC.
Here's Steve Saint himself, speaking from his hospital bed. I love this brother. Even in this crisis, his mind is on God's kingdom.
Update from the Saint Family, posted June 20
Steve came through his surgery very well. One of the biggest things for him is that he does not require his neck brace. He was able to stand up on his feet for about a minute this morning, with help. This is just the start of the long road ahead, but we know that he is a fighter and hard worker. By the beginning of next week, he should be moved into an in-patient rehab facility to begin intensive physical therapy. Please continue to pray for Steve and Ginny, as well as the rest of our family and care-givers as we continue this journey together to see how God will use this for our good and His Glory.

Thank you!

Jaime Saint for the Saint Family

You can continue to follow Steve's recovery at ITEC's Facebook page.