The Beauty of the International Body of Christ: Report from Our Trip to Cuba and Bermuda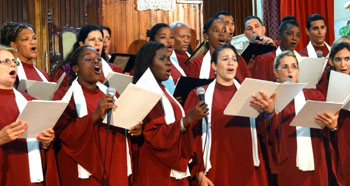 Less than a week ago, Nanci and I returned from a two-week ministry trip to Cuba and Bermuda. I asked for prayer for the trip in my blog, so here's my report.
While in Cuba we were able to travel with a team from ACTION Cuba, a great organization that Eternal Perspective Ministries has supported over the years. It's amazing what God is doing in this country. (The days without phone and Internet there reminded me of what normal life used to be!) We met many Christ-followers.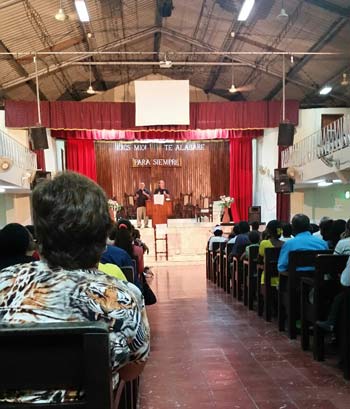 I had the privilege of training Cuban pastors and seminary students, speaking to the staff of Action Cuba, and preaching at a large youth rally on sexual purity where I shared the wisdom of purity and the Good News of Jesus. We heard many encouraging responses, and gave away 700 copies of the Cuban edition of my book The Purity Principle. (They publish four of my books in Cuba. I was amazed how many said they had read and reread them because Christian books are still hard to get there.)
We rode around in old cars and saw on the streets many classic pre-1960 cars, before the embargo, still in working condition due to the hard work and ingenuity of the Cuban people. One day we caught a horse-driven taxi to go into the city. Right when we thought no one else could fit on, they kept adding people. It was a fun adventure, and the people were wonderful.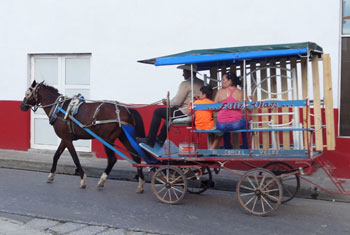 As we were leaving Cuba, before going through customs, an airport employee approached me and asked if I was Randy Alcorn. I said yes, assuming he'd been at one of the meetings I'd spoken at. He said, "I've read your books and recognized you from your photos." He took me over to another airport employee who'd also read my books. He said, smiling broadly, "Good to meet you, brother."
When I spoke at a training gathering for pastors, during a break I was taken upstairs to meet with the professors of the Bible college. We were in a room that was also their library, consisting perhaps of a few hundred books. I asked how we could help them get more books, and hopefully that will happen.
The international body of Christ is beautiful. I haven't been hugged and kissed by so many "strangers" for many years, most of them precious brothers and sisters in Jesus.
After I spoke in the church, the pastor asked me, on behalf of the churches of Cuba, to greet the body of Christ in the U.S.A. I do that now. The churches in Cuba have spiritual strength that has come through adversity. Their lives aren't easy, and the standard of living in the country isn't high. It's a land rich in resources and potential, but that potential hasn't been reached. Please pray for the people of Cuba, and especially for the churches.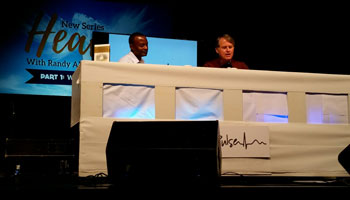 In Bermuda, I had the privilege of speaking at Cornerstone Bible Church, a wonderful fellowship of God's people. My Saturday seminar on what the Bible says about money and possessions was rescheduled for Tuesday night due to Hurricane Karl hitting the island early Saturday morning. Fortunately it was downgraded to Tropical Storm Karl and wasn't very eventful. On Sunday I joined the church and was interviewed on Heaven and the New Earth. We turned to different Scriptures and had a great time worshipping Christ. It's a vibrant church that meets in a school. If you visit Bermuda, I encourage you to attend.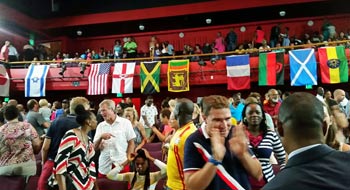 Cornerstone has something like 36 different flags hanging in the auditorium each Sunday to signify all the nations represented in their church family. At one point in the message I was asked if we would speak different languages in Heaven. I said we would likely speak our heart language from earth, but then maybe speak a trade language. I used the example of Swahili being a trade language of the nation of Kenya, known by many tribes, and mentioned as an example the specific language of one tribe, the Kikuyu people. Suddenly a couple in the church responded audibly. It turns out they were Kikuyu! Yet another man, as I was signing books after the service, came up and said "I am Kikuyu too!" It meant a lot to them that I had called their tribe out by name. I'd never done that in a message before, so I knew the Holy Spirit was behind it.
Finally, not really changing the subject of God's great work, but looking at a different aspect of it, I went snorkeling in both Cuba and Bermuda. Here are a few of the hundreds of photos I took of God's fascinating underwater world.
This Cuban frog fish is maybe the weirdest I've seen anywhere in the world! The brother snorkeling with me, who also prints my books in Cuba, has spent a lot of time in Cuban waters and says he's never seen anything like it. I photographed a frog fish on Maui, but it certainly wasn't as bizarre as this one! Frog fish are notorious for blending in with the reef. This one blends pretty well with the sand on the ocean floor. Seeing it move in the water was surreal. Consider God's creativity: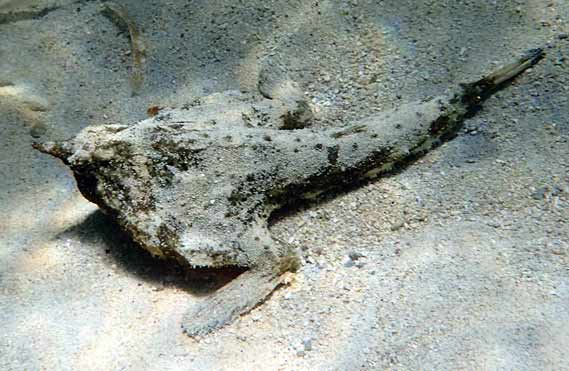 Also weird, but more common and considerably cuter, is this puffer or porcupine fish I photographed while it was hiding under a dock.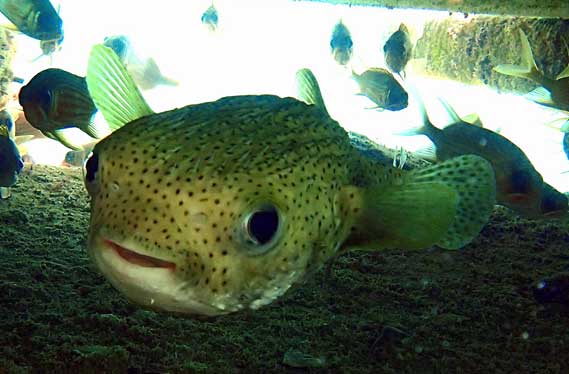 In Bermuda, this angel fish was one of my favorites. The reef there is breathtakingly beautiful. Below it is a colorful parrotfish, about three feet long, and its companion munching on the coral.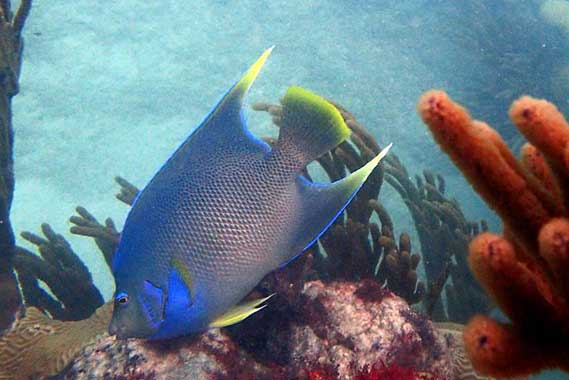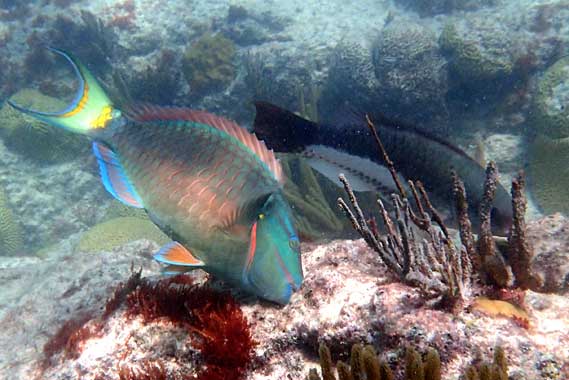 Many thanks for your prayers and partnership in the Gospel!
Randy
After this I looked, and behold, a great multitude that no one could number, from every nation, from all tribes and peoples and languages, standing before the throne and before the Lamb, clothed in white robes, with palm branches in their hands, and crying out with a loud voice, "Salvation belongs to our God who sits on the throne, and to the Lamb!" And all the angels were standing around the throne and around the elders and the four living creatures, and they fell on their faces before the throne and worshiped God,saying, "Amen! Blessing and glory and wisdom and thanksgiving and honor and power and might be to our God forever and ever! Amen." (Revelation 7:9-12)