Our Time Aboard Operation Mobilization's Ship, Logos Hope
Earlier this month, Nanci and I returned from a trip to Jamaica, where I spoke at a conference with OM Ships International, centering on the wonderful ministry of the current ship Logos Hope.
Here's a video of our welcome onboard when we arrived with others from the conference to visit the ship.
Following the conference we were privileged to spend five nights on Logos Hope. I've written before about the ship, but wanted to share more after we experienced this ministry firsthand.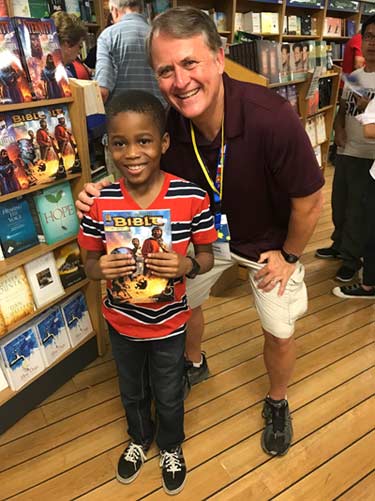 We went to nearly every deck and area of the ship while there. We met many of the crew of 400, most of them 18 to 25 years old, a number of whom, I was happy to discover, said they had read or were reading my books.
As great as it was to visit the ship a few days while I was speaking at the conference (and staying at an amazing hotel) the real highlight was actually staying those five days on the ship! It was great going to the huge onboard bookstore, called a "book fair," and fun seeing adults looking at my books. But nothing compared to seeing Jamaican children flipping through the pages of my graphic novels, Eternity and The Apostle!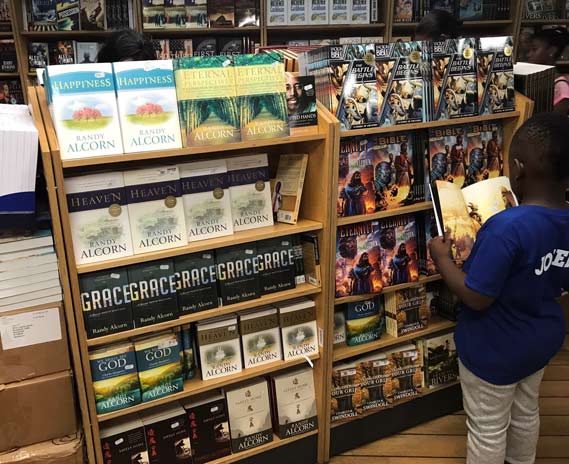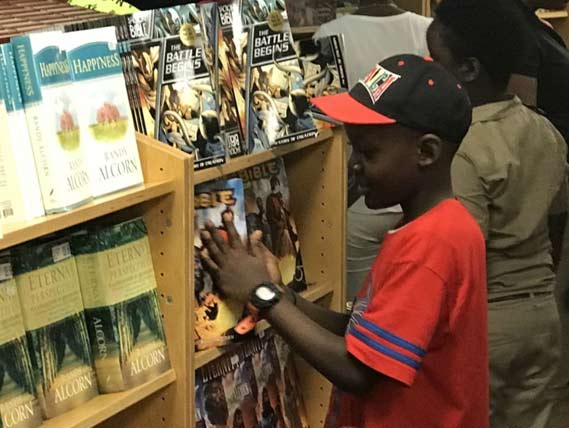 Our room was on deck eight of nine, and to our delight there were children playing in the narrow hallway. Some crewmembers live with their families on board. The children have their own school and teacher. Some of them have lived on the ship for years, and what a life: surrounded by the young volunteers on the ship, having people of countless tribes and nations and languages come on board, and getting to go ashore and meet others, including children, in every port. It's truly remarkable.
Nanci and I were struck by the large number of children visiting the ship.
We watched them come aboard, visit the bookstore, buy many books very inexpensively, hear the Gospel presented, and hang out in the International Café.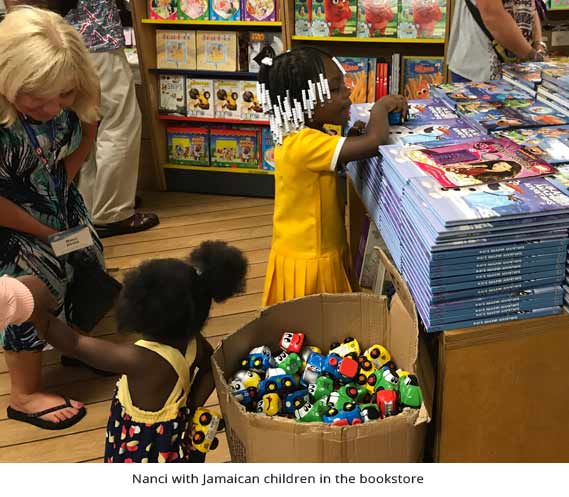 Sitting with the crew and talking at meals was a unique experience. I would be speaking with a young man from Russia, while sitting next to a girl from Zimbabwe, and meet another from the Faroe Islands, greet a young man from China and another from Iraq, be called to a table to speak with a woman from Guyana, and on and on. I just mentioned six countries, which means I left out about 54 others represented among the crew! The vitality of the crew members, both young and older, was striking.
We thoroughly enjoyed talking to them about their countries, and I loved the pride they took in their homelands. We talked about God's Word, about their walks with Jesus, and what they were learning going around the world serving on the ship. Some of them go out in the cities where they dock to serve the communities, by building playgrounds, providing eye tests and reading glasses and dental care, distributing medical and food supplies, renovating clinics and orphanages, and much more.
By God's grace, I have been in many countries and witnessed incredible ministries. But Nanci and I were touched as deeply by what we saw on Logos Hope as we have ever been anywhere in our lives. George Verwer, the founder of Operation Mobilization, is a dear friend, and he is the man who God gave the vision to launch the first OM ship in 1970. George and many others have talked to me about the ships over the years, but never did I realize the breadth and depth and kingdom-shaping quality of this ministry until we witnessed it firsthand. We were blown away by the work of God's Spirit.
In the picture below, I'm with my friends George Verwer and Karen Coleman. Karen is a former EPM staffer, her son Zac served two years aboard Logos Hope.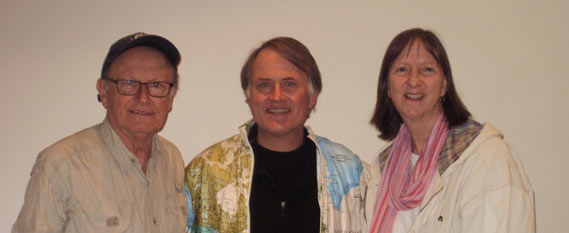 Here's a brief video I filmed of a young crew member telling a story of people coming to Christ after she shared with them, when she didn't know their language and they didn't know hers!
The original Logos ship launched in 1970, followed by Doulos, Logos II, and then Logos Hope, by far the largest of the ships. The OM ships have been to 151 countries, and cumulatively, over 46 million people have come aboard them. Logos Hope has had over six million visitors since it launched, visiting 135 ports in over 60 different countries. Close to seven million books have been purchased onboard, and many more given away. It has sailed about 90,000 nautical miles, enough to circumnavigate the globe more than four times!
If you want to see a record of where the ships have been since 1970, click on each of the ships and look at page after page of the ports they've visited. There's no way to calculate how many millions of people have been reached by the ships, and how many have come to faith in Christ, been discipled and grown in their faith, and received Bibles and been equipped with great books.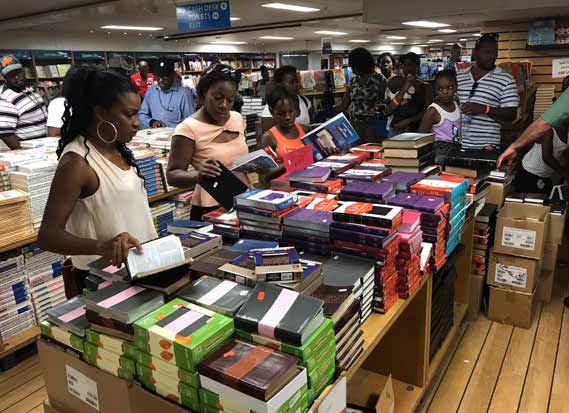 The stories of changed lives they do know of are marvelous. One that sticks with me is a man who boarded Logos Hope, and shared that many years before when "the book ship" came to his country, he came onboard and stole a Bible. He read it and his life was transformed by God's Spirit. He became a pastor and has shared the Gospel with countless people. (Needless to say, they didn't ask him to return the Bible!)
Logos Hope is certainly not a cruise ship (not that those are bad). It's a missions ship. While we've never been on a cruise ship, we were docked near a couple of them, and saw the people unloading at Montego Bay. We've heard stories of the food and accommodations on cruise ships, and in comparison Logos Hope is somewhat austere, and the food, while nourishing, is not what draws people to fine restaurants. Everything is on a budget, and nothing is luxurious. The dollars spent to support this ministry are stewarded carefully; yet, there is a spirit of grace, freedom, and joy.
Nanci and I enjoyed our meals and were comfortable and grateful to be onboard. Being surrounded by these multinational young people, we thought of the day when we will sit at banquet tables in the presence of our Lord (Isaiah 25:6; Matthew 8:11). We will hear stories of people from all around the world redeemed by the blood of the Lamb and drawn to Jesus by the Holy Spirit's work. We at EPM are honored to support Logos Hope by donating royalties and books. We look forward to meeting in Heaven those saved through the ship's ministry in Jamaica and 150 other countries to which the ships have brought the Gospel.
Everywhere we went in Jamaica, on streets and in shops and taxis, people called Logos Hope "the book ship." Here's an article from a Jamaican newspaper, showing many pictures of the ship's visits to Kingston and Montego Bay. The warmth and respect you sense in the report is commonly felt by people who see the ship as a beacon of light. It brings the hope and love of Jesus and the good news of eternal life, as well as substantial help to their communities.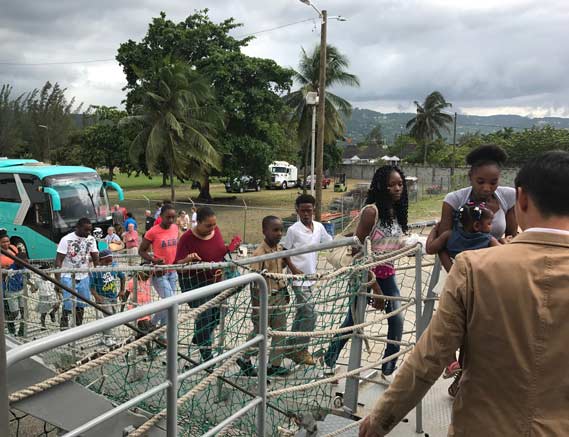 One evening, the crew members converted the theatre into a dining room for those attending the conference, and served us a wonderful dinner. Then they performed part of The Lion, the Witch, and the Wardrobe drama they've been doing in every port. What an incredible ministry.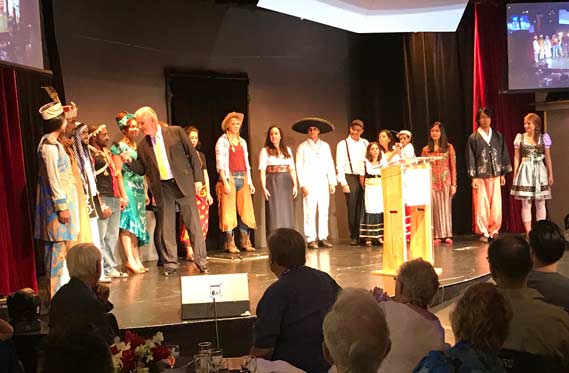 Here is a video of some of the crew worshiping Jesus with all their hearts.
We made such great friends on the Logos Hope and walked away wanting to tell any young person with a heart to serve God and a desire to see the world to consider signing on for two years as a crewmember! You will become a "world Christian," see God at work, help the needy, serve people of many nations, and gain lifelong friends from all over the world. It's not easy, but it's enriching and strategic and God-honoring, and you will never be the same.
Sidenote: an added bonus was that I got into the warm ocean and snorkeled for hours, enjoying the beauty of God's underwater creation and taking photos. Here's a lionfish.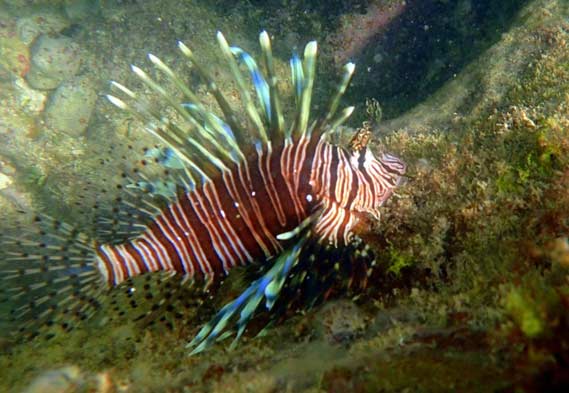 I stuck my head into a cave to get a photo of this giant pufferfish.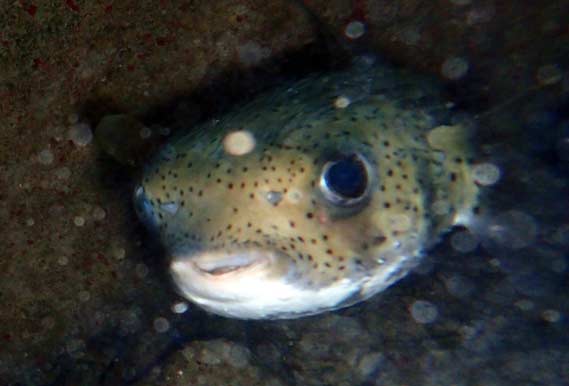 Okay, back to this ministry: one of the things I've noticed over the years is that Operation Mobilization is a great asset to other ministries. While some crewmembers will end up serving with OM the rest of their lives, many will serve with other missions groups and churches worldwide. Logos Hope is a missions incubator that raises up young missionaries, and seeds them all over the world. Those who go on to work secular jobs will pray and give and serve their churches with a devotion to missions.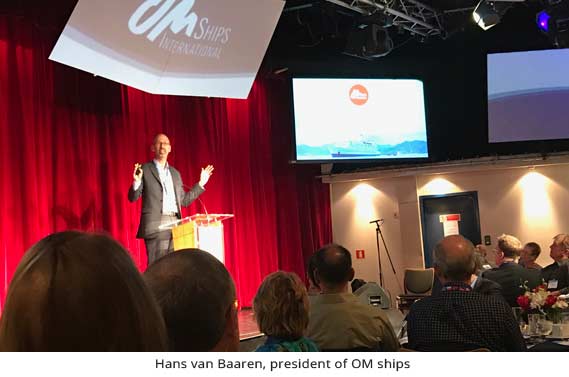 Want to see the essence of the Logos Hope distilled down to 90 seconds? Here it is.
And check out this great 2-minute video about Operation Mobilization. Seriously, you'll be glad you did.
At the conference where I spoke, they raised commitments of about $1.5 million for OM Ships. But that's just a beginning. They will need that much more to fund the ship's long voyage for 2018-19, which will go all the way around Latin America. Here's more from them about their plans and needs:
Since Doulos was in South America in the late seventies and early eighties, we've seen a steady flow of Latin Americans joining OM, both on board with OM Ships and in other mission fields around the globe. God has used OM Ships as a catalyst to launch His message to the least-reached people around the globe. We are asking God to make the Ship Ministry the catalyst to inspire a new and unprecedented wave of Latin American missionaries to reach the world's least reached.

Logos Hope needs 'seed' funding of $3 million to initiate our Latin ministry. One third of our operating expenses are funded through book sales but restocking our inventory of books on board in Portuguese and Spanish is a formidable challenge. As Logos Hope sails to Latin America we anticipate that tens of thousands of people will be blessed with the availability of quality books and Bibles. Study reference books for pastors, Christian growth books for adults, children's books, Bibles at prices all can afford, and educational resources are just a sample of what will be available.

While visiting the ship, people will hear the Gospel of Jesus proclaimed and receive free Christian literature as they exit. Our bold vision for Latin America is that Logos Hope will be the catalyst needed to help OM Latin America send out 2,000 well-prepared missionaries to countries least reached with the gospel over the next decade.
There are several ways to be a part of this eternity-changing ministry:
Nanci and I came away with a wholehearted commitment to do what we can for the crew and for the mission of the ship. We are making efforts to purchase and donate, and in some cases possibly print, a large quantity of my books in Spanish and Portuguese (which is the language of 211 million people in Brazil, who comprise about one third the population of Latin America).
Spanish: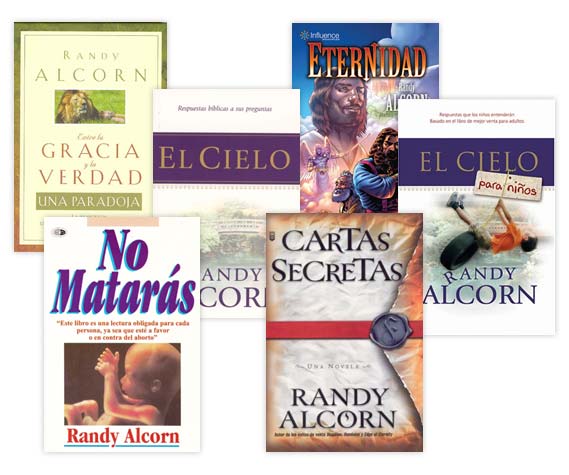 Portuguese: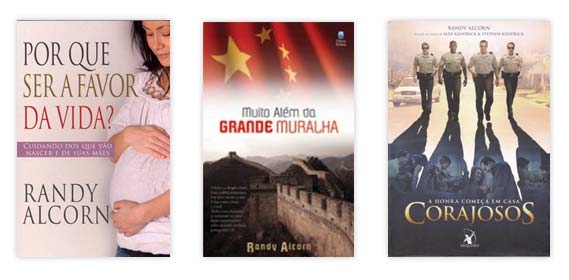 Let me wrap it up this way.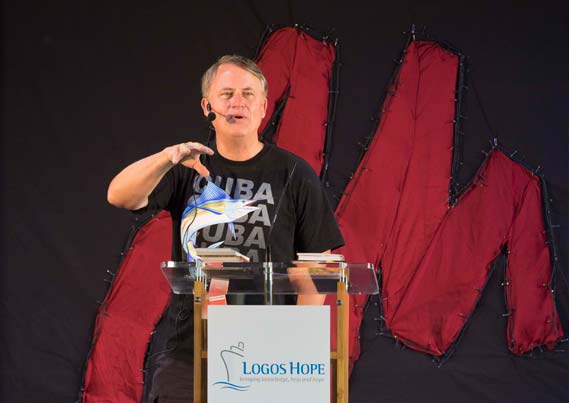 Time and time again on Logos Hope I sensed the powerful work of the Holy Spirit, and tears came to my eyes. The ship is like a microcosm of the global body of Christ. Worshipping with the crew is worshipping with citizens of our true and common country, Heaven (Philippians 3:20).
When I spoke to the crew, and looked out at all those happy, Christ-emoting faces from so many races and nations, I thought of this passage about God's people in Heaven:
They sang a new song, saying:
"You are worthy to take the scroll
and to open its seals,
because you were slain,
and with your blood you purchased for God
persons from every tribe and language and people and nation.
You have made them to be a kingdom and priests to serve our God,
and they will reign on the earth." (Revelation 5:9-10)
A wonderful young brother from Papua New Guinea: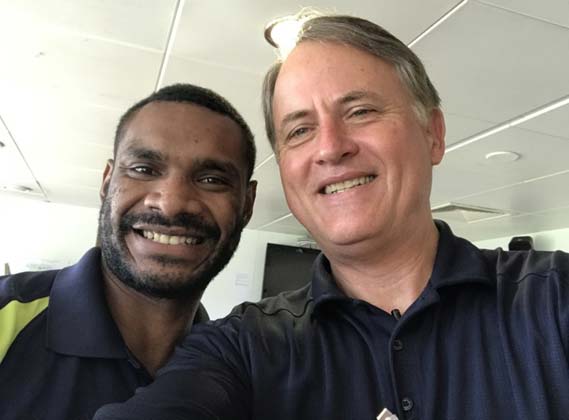 Have you ever heard someone say, "That was a taste of Heaven"? Well, what we experienced on Logos Hope really was a taste of the Heaven spoken of directly in Revelation 5, and again in Revelation 7:
After this I looked, and there before me was a great multitude that no one could count, from every nation, tribe, people and language, standing before the throne and before the Lamb. They were wearing white robes and were holding palm branches in their hands. And they cried out in a loud voice:

"Salvation belongs to our God,
who sits on the throne,
and to the Lamb." (Revelation 7:9-11)
A delightful crewmember from Thailand: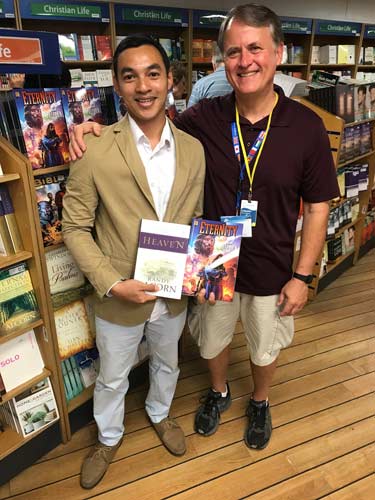 Periodically in my life, I have been overwhelmed with the sense that God was prompting me to do everything possible to support a particular cause and ministry. That's how I feel about OM in general, and Logos Hope in particular.
In light of the people of every tribe, nation, and language in Heaven spoken of in Scripture, what better way to joyfully obey the command of Jesus to store up treasures in Heaven (Matthew 6:19-21), than to generously support this unique and Spirit-led ministry?
Randy Alcorn