Heavenly Encouragement in the Race of Life
Life in this world—the way it is now and the way we are now—can be difficult, can't it? It's easy to become burdened, discouraged, depressed, or even traumatized when you suffer the loss of a loved one, when your health is failing, or when your dreams—your family, career, or lifelong ambitions—have crumbled. Perhaps you've become cynical or have lost hope. Some seasons of life can seem like a series of twists, turns, and dead ends.
God gives each of us a race to run. To finish well we must develop perseverance. The Christian life is not a hundred-meter dash but a marathon, requiring patience, endurance, and discipline. But how do we find the strength to finish our race well?
Heaven Is Our Finish Line
When the apostle Paul faced hardship, beatings, and im­prisonment, he said, "One thing I do: Forgetting what is behind and straining toward what is ahead, I press on toward the goal to win the prize for which God has called me heavenward in Christ Jesus" (Philippians 3:13-14, NIV). What gave Paul the strength and perspective to "press on toward the goal"? A clear view of Heaven.
A study was done in which one group of Israeli soldiers was told it would go on a march, but was not told if or when the march would eventually end. Another group was told the length of the march.
Both groups were tested for their stress response. Although they marched not one foot further than those in the other group, those who didn't know if or when the march would end registered a much higher level of stress. Why? Because they felt helpless—hopeless—wondering if they would ever be allowed to rest.
We do not know exactly when, but as followers of Christ, we do know there is a finish line. We will not run forever. We will rest.
Think of it: Jesus, at unfathomable cost to Himself, purchased for us a happy ending. A happy "ending" that will never end. Anticipating our future on a resurrected Earth with Christ can empower us to persevere in a difficult marriage, remain faithful to the hard task of caring for an ailing parent or child, or stick with a demanding job. Samuel Rutherford wrote, "Our little time of suffering is not worthy of our first night's welcome home to Heaven."
If you believe this, you won't cling desperately to this life. Your solid hope will give you strength to persevere when things get tough. You'll lift your face, stretch out your arms, and continue running in anticipation of the greater life to come. (I must mention suicide here because the idea seduces some people. The fact that Heaven will be so wonderful shouldn't tempt us to take shortcuts to get to the finish line. As long as God keeps you here on Earth, it's exactly where He wants you.)
Our Savior Is Waiting
Hebrews 12:1 tells us to "run with perseverance the race marked out for us," creating the mental picture of the Greek competitions, which were watched intently by throngs of engrossed fans sitting high up in the ancient stadiums. The "great cloud of witnesses" refers to the saints who've gone before us, whose accomplishments on the playing field of life are now part of our rich history. The imagery may also suggest that those saints, the spiritual "athletes" of old, are now watching us and cheering us on from the great stadium of Heaven that looks down on the field of Earth.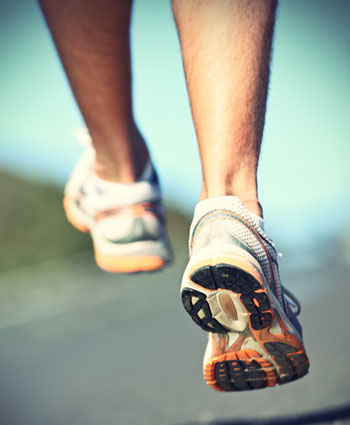 The author of Hebrews goes on to admonish us to "fix our eyes on Jesus, the pioneer and perfecter of faith. For the joy set before him he endured the cross, scorning its shame, and sat down at the right hand of the throne of God." The following verse commands us: "Consider him who endured such opposition from sinners, so that you will not grow weary and lose heart" (Hebrews 12:2–3, NIV).
John Piper writes of these verses, "But we do not look sideways to the saints as we run. Our main motivation comes from looking straight ahead at Jesus. He finished the same race of human life. Only he never sinned, and so his race was perfect. When he finished his race, he finished our salvation. So we run, 'looking to Jesus, the founder and finisher of our faith.'"
Jesus Christ, the Rock of salvation, is the One who has promised to prepare a place for those who put their hope in Him, a place where they will live with Him forever. If we can learn to fix our eyes on Jesus, to picture our eternal home in our mind's eye, it will comfort and energize us, giving us a clear look at the finish line. And if we've served Him here, His welcome will be glorious!
In his book Things Unseen, Mark Buchanan describes the Christian's life race and Jesus' role encouraging us on: "You're heaven-bent. You eagerly await a Savior who, in turn, eagerly awaits you. There's a huge company with you, cheering every move you and your Savior make closer to each other. He pours out grace for you to finish the race. He pours out more grace when you stumble, grow weary, fall down, lose heart. He stands at the head of the course and, while all the saints who have gone before line the roadway and cheer riotously, He stretches out His arms wide in exuberant welcome, exultant congregation."
I imagine myself seeing Jesus, falling to my knees, having Him reach out and pull me up. To think of Him welcoming me not just once, but for all eternity, is sheer joy.
Shut your eyes and picture seeing Jesus and being embraced in His arms when you cross life's finish line. What a wondrous thought!
The Promise of Eternal Reward
It's not only the anticipation of seeing our Savior that should propel us forward; it's also the joy of pleasing Him. Jesus has promised reward for those who've faithfully served Him: "Behold, I am coming soon, bringing my recompense with me, to repay each one for what he has done" (Revelation 22:12).
Moses remained faithful to God because "he was looking ahead to his reward" (Hebrews 11:26, NIV). Likewise, Paul ran his race with his eyes on Heaven's prize, which motivated him to run hard and long. He was unashamedly motivated by the prospect of eternal reward, and acknowledged it freely and frequently (1 Corinthians 9:24-25; 2 Corinthians 4:16-18; 5:9-10; 2 Timothy 4:7-8). "Run in such a way as to get the prize," he said, and on the verge of death he spoke longingly of the crown the Judge would award him in Heaven. He encouraged believers with these words: "Let us not become weary in doing good, for at the proper time we will reap a harvest if we do not give up" (Galatians 6:9).
Jesus tells us that one day His faithful servants will hear their Master say, "Well done, good and faithful servant. You have been faithful over a little; I will set you over much. Enter into the joy of your master" (Matthew 25:23).
Think about those incredible words: "Well done, good and faithful servant." Memorize them. They are the words we long to hear, the words we were made to hear.
What changes might you need to initiate today so that you may one day hear those words from God? If you don't yet know Jesus, it's not too late. Confess your sins and humbly accept the gift of His atoning sacrifice on your behalf. If you do know Him, make your daily decisions in light of your destiny. By God's grace, use the time you have left on the present Earth to store up for yourself treasures on the New Earth, to be laid at Christ's feet for His glory (Revelation 4:10). Run your race of life to honor Him.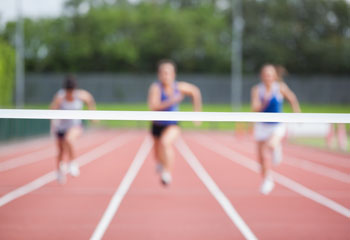 And should you wonder if there's anything you've done that God could possibly reward, be encouraged by 1 Corinthians 4:5 which talks of the judgment when "each will receive his praise from God" (NIV). He will find something to reward you for. Will you seek to do more rewardable works for Him?
When we hear Jesus say "Well done," we'll know that any sacrifice we made, any difficulty along the way, was nothing. Meanwhile, we can rejoice in suffering in the same way that Olympic athletes rejoice in their workouts—not because we find it easy, but because we know it will one day result in great reward.
He Gives Renewed Strength
Many are familiar with the beautiful promise of Isaiah 40:31: "Those who hope in the LORD will renew their strength. They will soar on wings like eagles; they will run and not grow weary, they will walk and not be faint" (NIV).
Joni Eareckson Tada writes about this verse:
The beginning of the Christian life was exhilarating: lots of smiles and handshakes and encouragement. Your emotions soared. And the end? Well, it's going to be wonderful meeting Jesus face-to-face.

But now you're in the middle. There are miles behind you and miles to go. You don't hear any cheers or applause. Your commitment to simply keep putting one tired foot in front of the other begins to flag and fade. Ah, but the promise in Isaiah is just as true now as then. Friend, if you walk in the Spirit, your strength will be renewed. You'll run and not be weary. Even in the long, gray, middle distance, you will walk and not be faint. So friend, don't faint; don't give up. The finish line is just over the horizon and, oh, what a rich reward awaits you. Every step brings you closer to home, so fix your eyes on the One who awaits you there. You're halfway home.
With God's help, we can submit to the discipline of the life circumstances He's entrusted to us. May we rejoice not merely when those circumstances please us, but even when they don't, because we know God is sovereign, all-knowing, and all-wise, because He has delivered us from Hell and promised us Heaven, because He is working together all things, even the worst things, for our good (Romans 8:28).
So are you weary in life's race? Ask your Savior for His empowerment to finish strong, and keep your eyes on the heavenly finish line. By His sustaining grace, you'll make it.
Randy's book Heaven can help you learn more about our heavenly finish line, which will inspire you to finish well in the race of life. Browse EPM's selection of Heaven related books and products here.

This article also appeared in the Spring/Summer 2018 issue of our free Eternal Perspectives magazine.
Top photo by Clem Onojeghuo on Unsplash