Favorite Books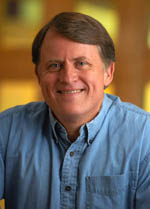 God is an author. The universe itself is his book. Each person is a sentence, paragraph or page. History really is His story. Christ is the Word, the very essence of God, and expression of God. We are created in God's image, and made to be what Tolkien called sub-creators, authors who create and weave together both nonfiction and fiction, marvelous stories on which our imaginations can soar. When we write and read such works, He is pleased.

Books and bookstores have had an enormous influence on my own life. I came to Christ as a teenager, at Powell Valley Covenant Church in Gresham, less than a mile from where I live now. My first youth pastor, Paul Siwick, did me a huge favor—he gave me a key to his office, so I could go in any time and read his books, hundreds of them. I read everything I could get my hands on. There was an elderly couple in our church, named Bill and Martha Kuntz. They had a Christian book store in their house in Gresham, my hometown, right near the corner of Burnside and Powell Valley Road, by what is now the big Fred Meyer. I would go there several days a week, for hours at a time. They would point out books for me to read. They introduced me to Lewis, Schaeffer and Tozer, and books such as Tortured for Christ, God's Smuggler, Through Gates of Splendor, and The Cross and the Switchblade.

Over the years I bought and read portions or all of thousands of good books, many of which are now in our church library. I cannot divorce God's works of grace in my life from good books. In my book Heaven, I talk about books the Bible says are now in Heaven, and I give arguments for believing other books will be written and read on the New Earth.

I love a good movie, but I find that for me television is incapable of having the deep and profound positive effect on my spiritual life that books do. That's one reason I'm so concerned about the plunging literacy rates for young people, especially boys. In a day when we are drowning in popular culture and TV shows and video games, may we and our children and grandchildren break away from obsession with the trivial and become creatures of the eternal. Those who don't grow up to be readers will not be readers of God's Word.

When you discover something really good, you want to share it with others. Here are some of my all time favorite nonfiction books.
Some Favorite Nonfiction, after the Bible:
The Knowledge of the Holy, A. W. Tozer
Mere Christianity, C. S. Lewis
Knowing God, J. I. Packer
Desiring God, John Piper
He Is There & He Is Not Silent, Francis Schaeffer
Loving God, Chuck Colson

Books I've enjoyed in recent years include titles by John Piper, Wayne Grudem, Calvin Miller, Joni Eareckson Tada and D. A. Carson, and a great book by Ken Gire titled The North Face of God. And here are some books I really enjoyed when I read them long ago:

Your God is Too Small: A Guide for Believers and Skeptics Alike, J.B. Phillips
Through Gates of Splendor, Elizabeth Elliot
Tortured for Christ, God's Smuggler, and Fox's Book of Martyrs (three books on the suffering church that greatly impacted me many years ago)
Peace Child, Don Richardson
The Everlasting Man, G.K. Chesterton
Principles of Spiritual Growth, Miles Stanford
The Calvary Road, Roy Hession
George Muller of Bristol (1805-1898), A. T. Pierson
The Church at the End of the 20th Century, Francis Schaeffer
Where Is God When it Hurts?, Phillip Yancey
The Joy of Fearing God, Jerry Bridges
The Cost of Discipleship, Dietrich Bonhoeffer
Disciple, Juan Carlos Ortiz
Kingdoms in Conflict, Chuck Colson
No Wonder They Call Him the Savior, Max Lucado
When People Are Big and God Is Small: Overcoming Peer Pressure, Codependency, and the Fear of Man, Edward Welch
From Jerusalem to Irian Jaya: A Biographical History of Christian Missions, Second Edition, Ruth Tucker
The Pursuit of Holiness, Jerry Bridges
The Case for Christ: A Journalist's Personal Investigation of the Evidence for Jesus and The Case for Faith, Lee Strobel
How Now Shall We Live?, Chuck Colson
---
Favorite Fiction
Since I'm a big Narnia fan, and the Prince Caspian movie has been released, I'm going to plug it, even though this is an article about books. Caspian is a fun movie, true to the spirit and content of the book (though to work on the big screen there had to be significant additions and subtractions.)

Before getting to Narnia and some of my other favorite fiction, let me go back in time, to my childhood.

I grew up in a nonchristian home. I learned to love reading through comic books: Archie and the Marvel comics among them, especially the Fantastic Four. But mainly I was a DC fan, my favorites being The Justice League of America (Green Lantern was my hero) and The Legion of Super Heroes (go, Lightning Lad). From there I dove into science fiction and fantasy, spending my nights looking through my telescope, then coming to bed freezing and reading science fiction by flashlight under my covers, so Mom wouldn't see the light on.

Much as I would have enjoyed video games and computers as a boy, I'm profoundly grateful they didn't exist then. If they would have, I'm afraid I wouldn't have come to love reading as I did. (Which creates a real challenge for today's Christian parents, doesn't it? How do you cultivate a love for reading in children, especially your boys, when there is so much in our culture working against it? And especially when we remember that those who are not readers will not be readers of God's Word.)

I vividly remember forty years ago looking through the kids fiction section in the old Gresham library, and discovering a book I checked out numbers of times over the next years: Stadium Beyond the Stars, by Milton Lesser. It centered on a journey to the interplanetary Olympics.

Not a great book by literary standards, but a wonderful book to me to this day, not simply the book but how the book fed my longing for something greater, for adventure beyond my world. As C. S. Lewis said of George MacDonald's Phantastes, "it baptized my imagination."

It was a great joy to hunt down Stadium Beyond the Stars online a few years ago, to order and reread it and be taken back in time forty years and forward in time a few hundred years. When I see it on my shelf my heart is moved.

I think of how God had his hand on my life long before I was in high school, when I read for the first time a book that really captivated me...the Bible. That Book came alive to me when I met the Author, who soon became my best friend. Can't wait for all the adventures He has awaiting us, His children, in the new universe.

Okay, here are some of my Favorite Novels: (with apologies to Tolstoy, Dostoevsky, Dickens, Hemingway, and Steinbeck, who didn't make the cut).

And here's a disclaimer—there are a lot of contemporary Christian fiction authors whose books I've read and loved. But because many of these have become my friends over the years, I just can't get started, or I couldn't stop. I will mention some of them periodically in my blog, but not on this list. (Okay, one example: The Atonement Child, by Francine Rivers; a powerful novel.)

Instead, here are books mainly that I read many years ago, and a number of them I've reread, with delight. As Lewis said, any book not worth rereading is not worth reading the first time. (Walter Wangarin's books are more recent, but since he's not a personal friend I'll keep him on the list; besides yesterday in the car I was listening to an old cassette of him reading his book Paul, A Novel, on the list, and I was captivated by his mastery of the language.)

The Chronicles of Narnia (7), C. S. Lewis
The Lord of the Rings (3), J. R. R. Tolkien
Perelandra, C. S. Lewis (closely followed by the other two in the space trilogy, Out of the Silent Planet, and That Hideous Strength)
The Singer Trilogy, including The Singer, The Song and The Finale), Calvin Miller; okay, Calvin became my friend, but it was twenty years after I first read his books, so that's different
Odyssey and The Iliad, Homer
The Adventures of Huckleberry Finn, Mark Twain
Robinson Crusoe, Daniel Defoe
Complete Sherlock Holmes, Sir Arthur Conan Doyle
Screwtape Letters, C. S. Lewis
The Chosen, Chaim Potok
In His Steps, Charles Sheldon
Pontius Pilate, Paul Maier
Ben-Hur, Lew Wallace
The Birth, Gene Edwards
The Mantle (name later changed to Elijah), William H. Stephens
Paul, A Novel, Walter Wangerin
The Book of God: A Response to the Bible, Walter Wangerin

I think it's likely I've not yet read my favorite novel. Not just because it's out there and I haven't yet discovered it, but because it may not be written until after the resurrection, when we're on the New Earth. Think of the book discussions we'll likely have there!
---
More Recommended Reading

Books for which Randy Alcorn has written Endorsements

Books that include a submission by Randy Alcorn

Books for which Randy Alcorn has written Forewords
---
By words the mind is winged.
- Aristophanes, quoted in Jan Karon, Patches of Godlight
When you re-read a classic you do not see more in the book than you did before; you see more in you than there was before.
- Clifton Fadiman, Any Number Can Play
We read to know we are not alone.
- Student to C. S. Lewis in Shadowlands
Make careful choice of the book which you read. Let the Holy Scriptures ever have the pre-eminence, and next to them, the solid, lively, heavenly treatises which best expound and apply the Scriptures. But take heed of the poison of false teachers.
- Richard Baxter, Christian Directory
I suggest that the only books that influence us are those for which we are ready, and which have gone a little further down our particular path than we have gone ourselves.
- E. M. Forster, "A Book that Influenced Me," in Two Cheers for Democracy