Fourteen years ago in England, Nanci and I spent an unforgettable morning with Phil and Margaret Holder. We discovered Margaret had been born in China to missionary parents with China Inland Mission. In 1939, when Japan took control of Eastern China, thirteen-year-old Margaret was taken prisoner in a Japanese internment camp. There she remained, separated from her parents, for six long years.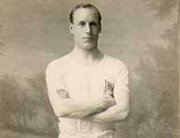 Margaret told us some great stories, one of which concerned a very special person in the prison camp, a godly man she called "Uncle Eric," who tutored her in chemistry, and was deeply loved by her and all the children. "Uncle Eric" turned out to be Eric Liddell, "The Flying Scott," hero of the movie Chariots of Fire. "God made me fast," Liddell said. "And when I run I feel His pleasure." Then he shocked the world by refusing to run his Olympic race—which he was favored to win—because it was scheduled on Sunday.
After the Olympics, in which he won a gold medal in a different race, Liddell had gone on to be a missionary in China. When war broke out, he sent his pregnant wife and children to safety, hoping to follow later. Meanwhile, he stayed to assist others. Because of his loving and sacrificial actions, he would never see his family in this world again. Margaret told us through tears that seemed as fresh as if it had just happened: "I remember the day Uncle Eric died." The children had lost a dear friend, and mourned their loss. Liddell had represented faith and hope, and now their hero, their mentor, was gone.
At times it seemed unbearable to be cut off from their homes and families, subjected to the whims of their captors. But Margaret spoke with awe and delight of the "care packages," the barrels of food and supplies parachuted down from American planes near the end of the war.
One day, not long after the bomb was dropped on Hiroshima, Margaret and the other children were lined up as usual to count off for roll call. (They would often have to stand in line hours in the bitter cold.) Suddenly an airplane flew over low. They saw the markings—it was an American plane! Then they watched it circle and drop more of those wonderful barrels of food. But as the barrels came near the ground, the captives realized that this time something was different. Her face animated, her eyes bright, Margaret told us, "This time the barrels had legs!" The sky was full of American soldiers parachuting down to rescue them!
Margaret and the others, including several hundred children, rushed out of the camp, past the speechless Japanese guards, who offered no resistance. Out of their prison for the first time in six years, they ran to the soldiers, who by now were raining down everywhere. The children threw themselves on their rescuers, hugging and kissing them.
For years Margaret and the other children had wondered if anyone really knew they were there, if anyone out there really cared about their suffering. They were isolated, alone, separated from their families, desperately needing deliverance. But there was no deliverer in sight. Their hope was rekindled by the packages from the sky, but still they had to endure the present realities of prison.
But in one day everything changed, because at last someone had come from the sky to deliver them from prison, take them back home to England, and reunite them with the families they hadn't seen for six years.
This reminds me of God's words in Isaiah: "My righteousness draws near speedily, my salvation is on the way, and my arm will bring justice to the nations. The islands will look to me and wait in hope for my arm" (Isaiah 51:5).
After talking with the Holders, Nanci and I thought about the parallels to the day we will at last be delivered from this world. Whether it's Christ returning from the sky to liberate us, or drawing us up to Himself through our deaths, we will at last be rescued, at last reunited with loved ones who've gone on before us, at last be free, at last be home. At last be with the Person we were made for, and living in the Place we were made for.
Scripture reminds us first that our citizenship is in heaven, not here on earth (Philippians 3:20). While on earth, we await the deliverance of our Savior. We long for Him to come rescue us.
No matter what difficulty surrounds it, God is intimately involved and interested in the Christian's departure from this world: "Precious in the sight of the Lord is the death of his saints" (Psalm 116:15).
We're ambassadors representing Christ in this world, this foreign and difficult land called Earth (2 Corinthians 5:20). Like Eric Liddell in that prison camp, we have a mission for which we'll be held accountable. That means we're to make the most of our limited time here.
We're aliens and strangers as long as we're here (Hebrews 11:13). This is not our home, any more than the prison camp was Margaret's home. Our thoughts and hearts and hopes are focused on the day of our deliverance, when we will be rescued, taken home at last, for the great reunion. Meanwhile, we take encouragement in the way God provides and watches out for us while we're away. But never should we forget this isn't our home.
We should resist any influence that tempts us to become settlers instead of travelers, acclimating to this foreign land and adopting its lifestyles and values as our own.
James minces no words: "You adulterous people, don't you know that friendship with the world is hatred toward God? Anyone who chooses to become a friend of the world becomes an enemy of God" (James 4:4).
Imagine an ambassador who leaves his country to live in another nation, one hostile to his own. Naturally, he will want to learn the language, see the sights, eat the food, become familiar with the people and culture. But suppose he fails to draw the line. Suppose he becomes so engrossed in this country's customs and philosophies that he gradually assimilates into it. He becomes sympathetic to its policies, buys into its values, begins to regard it as his true home.
His allegiance wavers. He compromises his position as an ambassador. He becomes increasingly ineffective in representing the best interests of his true country. His loyalties drift. Eventually, he may even defect. At best, he becomes incapable of serving his true country. At worst, he may actually betray it.
His fatal mistake is this—just because he lives somewhere, he comes to think of it as his home. As Christians, we live on earth—but this earth, as it is now, is not our home. Heaven is, and it will one day be located on the New Earth. We forget that to our peril.
How are you doing as an ambassador for Christ? How are you doing representing your true country, heaven, as you live in a world that's not your home? Have you adopted values and customs of this culture that are contrary to those of the culture of heaven? Have you compromised your allegiance to your true country and your true King?
"Live your lives as strangers here in reverent fear" (1 Peter 1:17). "I urge you, as aliens and strangers in the world, to abstain from sinful desires, which war against your soul" (1 Peter 2:11).
Back in Kansas, with Oz behind her, Dorothy says, "There's no place like home." How true. But how easy it is for you and me to forget where home really is. At death we won't leave home; we'll go home—"away from the body and at home with the Lord" (2 Corinthians 5:8). One of the great paradoxes is that our home is a place we've not yet been. But the moment we set foot there, we'll wonder how we ever could have imagined anywhere else was our home.
While we're content to be on our Father's business here, we're never entirely at home. How can we be? Our true home is so far superior, and the spiritual family there so vast and rich. The Great Reunion awaits us, and we long for it.
When we understand what home really is, what this world has to offer loses its glitter. Michael Griffiths' book God's Forgetful Pilgrims maintains the church has largely forgotten her wondrous identity in Christ, and settled for the superficial substitute-identities of the world. In a bookstore, I ran across the original British edition of the book, which had a different and more striking title —Cinderella With Amnesia. We are the chosen bride of the Prince. Our home is His palace, His estate. But we keep forgetting and going back to our second-rate "home" where we settle for so much less than He intends for us. How easily we forget who we are, whose we are, and where we will spend eternity.
Browse more resources on the topic of Heaven, and see Randy's related books, including Heaven.
Photo by Benjamin Lambert on Unsplash