Heaven for Kids: Student Study Resources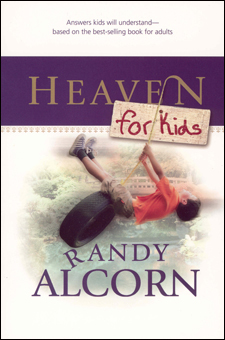 We have two reader-created resources to share for use with Randy's Heaven for Kids book! Please note that these are unofficial study guides (created by readers and shared with EPM) available in PDF form only.
To learn more about the book, or to order your copy, visit the Heaven for Kids book page.
---
Heaven For Kids - Middle School Curriculum
This six-week "hands-on exploration of Heaven" for middle schoolers based on Randy's book Heaven for Kids was created by Janet Eriksson, a volunteer middle school Sunday school teacher at Dahlonega United Methodist Church in Dahlonega, Georgia. Speaking about a conversation with a student, she says, "We had a chance to chat one day, and I started telling him what we know about heaven. He was amazed. It was the first time I'd ever seen him believe he had a future to look forward to. I saw a distinct change in him from that day on. I would love to share this middle school study that God blessed me with, hoping that it will encourage others to teach this to kids."
Download the PDF version of the Heaven for Kids Middle School Curriculum. (*Note... the lessons are dated, but the curriculum can obviously be used at any time of year!)
New Earth Travel Guide (Teacher Instructions and Student Instructions)
Week 1 Is Heaven boring?
Week 2 What happens when we die?
Week 3 What will the new Earth be like?
Week 4 Who will rule the New Earth?
Week 5 What will New Earth life be like?
Week 6 What will we do in the New Earth?

Each week includes:
Teacher prep instructions
Teacher Guide
Student Guide
Scripture Verse (activity)
---
Heaven For Kids - Student Study Guide
This 12-lesson student guide in workbook format is based on Randy's book Heaven for Kids. It was created by Kim Campbell for First Baptist Church in Eastman, Georgia.
Download the PDF version of the Heaven for Kids Student Study Guide.
This Student Study Guide follows the book chapter by chapter, including the Introduction and Conclusion. It also includes additional resources and Bible memory verses.

Each week includes:
Activities
Questions from chapter reading
Heart Check Points
Chapter summary