Readers' Responses to Heaven For Kids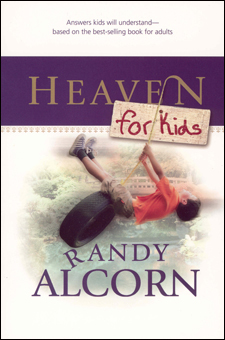 I've been reading Heaven for Kids to my younger two daughters, and they asked Jesus in their hearts tonight. Best mom moment ever! My father gave me a copy of Heaven [as well as Heaven for Kids for my five daughters] and I've been slowly reading it. My dad passed away from cancer 11 months ago today... it had a different meaning for him when he was reading your book after he knew his diagnosis. You helped a lot, [and he] wanted to make sure my girls are not scared of Heaven and death, and we will be together again. — S.P.
Our girls (ages 13 and 10) were quickly drawn to read Heaven for Kids. Five years ago, a family in our church lost the wife and both children to a house fire. Their family had just read Heaven for Kids with both children, and the youth pastor talked to the children's church about what the two children had been reading and studying, how God prepared their family for what they were about to face. Both of our girls were in the same Sunday school classes with their children, so this really made an impact. We now have both a print and Kindle version of Heaven for Kids, and I often find it in the carousels of their Kindles. Thank you for allowing God to work through you to write such amazing books! — A. W.
My 11-year-old daughter had a sleepover for her birthday. At breakfast the conversation turned to Heaven and the girls had lots of questions. I happened to have Randy's Heaven for Kids book on the bookshelf by the kitchen table because I had been reading a question/answer a day to my three kids. So I pulled out the book and found the pages for all of their questions. This went on for at least half an hour (no small feat with a bunch of preteen girls!) and every time they had a question, I found it in Randy's book! They were so impressed they said, "That book has everything!" We talked for a long time and of course the question came up about how you get to Heaven. I shared that response and they all listened attentively. I thought it was such an amazing time! Thank you Randy for this awesome book that allowed me to have that time with my daughter and her friends. — A. P.
My eleven-year-old son asked for this book after having questions about death. I read the adult version (Heaven) and found this the most comprehensive book out there without having the experience of being there. Alcorn goes through this with the Bible as a foundation, which we were looking for. My son hasn't had any difficulties understanding and said it answered all his questions. This is the only book I'd recommend for anyone of any age asking questions about Heaven. — J. A.
I just want to tell you how grateful I am for Heaven for Kids. We are reading it in our family devotional time with our eight- and four-year-old girls and it is sparking some great conversations. The other day, my youngest child was "helping" me make breakfast and she yells, "I want to go to Heaven!" It was a great opportunity to share the gospel with her once more. I believe your book is helping to create a longing for Heaven in each one of us! Thank you! — P. R.
I and a fellow teacher have found Heaven for Kids uses a question and answer format that is not just for kids. I and several adult friends of mine have read this book and find it very enlightening and informative. It truly makes you look forward to the better place God has prepared for His believers—especially in light of all the turmoil and disturbing issues of the world today. — L. B.
Last summer my 13-year-old daughter read your book, Heaven for Kids, and loved it. I chose it to read to my 7- and 10-year-old boys as a read-aloud book this school year (I homeschool). In September, my husband was hit and killed by a driver who ran a stop sign. I feel God chose that book for me and our family this year. I now read a small section each night with my boys. My 10-year-old says reading this book helps him sleep at night. It has been good to read about what life may be like for Daddy (who we know is in Heaven because he asked Jesus into his life when he was young and was a godly man and father). I thank God for giving you the wisdom to write this book for kids. I wanted you to know that your book has been so helpful for me and the kids in our grieving process. — S. H.
I absolutely love this book. I have a progressive disease and worry about my young child growing up without his mom. I read this book first and found great comfort in what it has to say about Heaven. I appreciate all the references to scripture, so you can look things up for yourself if you choose. I will now begin reading this to my son so he will have a better understanding of what Heaven is all about. This book is very uplifting. A must-have for all Christian homes. — C. H.
Alcorn's book engages kids to consider God's promise of Heaven. Often he uses scenes from popular movies like Narnia and Fellowship of the Ring to engage young readers. We read the book together as a family and truly enjoyed the time together. — K. M.
I bought Randy Alcorn's book Heaven for adults. I enjoyed reading it, and so we bought the "Kid's" edition with the intention of sharing it with our son. I began reading it, and can't seem to put it down. This is a well-written and interesting book. It is written so that it is easy for children to understand, yet it will keep the attention of adults as well. Therefore, I recommend this book to anyone who would like to learn more about Jesus and what He tells us about Heaven. — S. H.
I think it quite interesting on p.88 where Randy writes about eating and drinking—and quotes Luke 22:18-Jesus says, "I will not drink of the fruit of the vine from now on until the Kingdom of God comes." When does the Kingdom of God come? Do we really understand this Kingdom of Heaven that was Jesus' purpose to preach (Luke 4:43) or do we get everything confused with what our society imagines what we will do after death...i.e. float up into the heavenly clouds to play harps or watch our loved ones below...versus what the Bible actually states as truth?
Hats off to Randy Alcorn for bringing up this subject and attempting to unveil what the Bible refers to as the 'mysteries' of the Kingdom of God! It's a step in the right direction at least!
I would like to encourage you—study this subject for yourself! Get your Bibles out and question what you think you know or what you have been taught and see if it is Scripturally based! Kids are naturally curious to wonder what happens to us after we die. Let's unmask the mystery and teach them the truth that God makes clear to us in the Bible and leave the cloud theories to fictional stories. — A. M.
Learn more about and purchase Heaven for Kids.