Endorsements and Book Reviews of Heaven
Endorsements of Heaven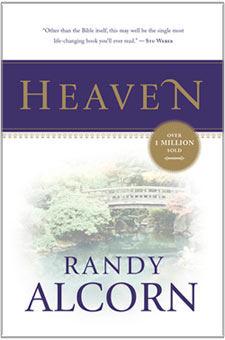 Randy Alcorn is a fully devoted follower of Christ. I believe God has sovereignly prepared Randy, over his lifetime, for the writing of this book on Heaven. He has long reflected upon this subject and this book is the fruit of his biblically-disciplined study and his sacred imagination. Randy is a wonderfully original thinker, yet a thorough-going biblicist. Other than the Bible itself, this book may well be the single most life-changing book you've ever read. It has certainly refueled my soul and given me a fresh sense of purpose and drive. Having read this book, I will never be the same.
— Stu Weber, pastor and author of Tender Warrior
---
I received Heaven written by Randy Alcorn who, after spending 25 years of extensive research on eternal issues, penned this tremendous masterpiece.
I was so overwhelmed with joy, inspiration, and spiritual illumination [by] the most enlightening book I have ever read on Heaven - including all 11,000 of my volumes covering 58 years of ministry.
In this easy-to-understand book, even I learned new concepts about our glorious eternal home. I...have never considered the 300 shocking, stirring, thought-provoking scenes described in what I believe is one of the greatest books I have ever read.
— Jack Van Impe, Evangelist and television host (read the full review)
---
Earth can't keep its promises, but aren't you glad Heaven does?! And, oh, the joy of one day enjoying not only new glorified bodies, but hearts free of sin! Randy does an awesome job of answering people's toughest questions about what lies on the other side of death. Heaven provides a clear and very readable guide to grasping all that the Savior has in store for those who trust in Him.
— Joni Eareckson Tada, Founder and CEO, Joni and Friends
---
Randy Alcorn's thorough mind and careful pen have produced a treasury about heaven that will inform my own writing for years.
— Jerry B. Jenkins, novelist
---
I just turned the last page of Randy Alcorn's Heaven... and I feel so full. My heart brims with excitement about my future home and with love for the creative God who designed it for me. My mind has been delighted to consider scriptural truths I've previously glossed over. My spirit yearns to walk in God's company. We all need to know what awaits us beyond the grave. Drawing from God's Word, Randy Alcorn has explained and carefully illustrated these plans in an easy-to-follow format. Do not miss this book. Heaven will change your life, your perspective, and perhaps even your eternal destiny.
— Angela Hunt, author of The Debt
---
When Randy Alcorn speaks, I listen; when he writes, I read. This is not only so because Alcorn is a uniquely gifted communicator but because his walk matches his talk. To put it plainly, he is the real deal!
— Hank Hanegraaff, President of the Christian Research Institute International and host of the Bible Answer Man broadcast
---
Book Reviews of Heaven
Pastor, seminary professor, speaker, and writer Randy Alcorn has written a monumental opus on Heaven, humbly titled Heaven. I often have taught that our views of Heaven are too heavenly and not earthy enough. Alcorn's entire book communicates the same message.
His theme is continuity—all that is beautiful about life on Earth continues in the New Heaven and the New Earth. All that is horrible about life on Earth is healed in the New Heaven and the New Earth.
Notice the phrase "New Heaven and New Earth." When you do, consider Genesis 1:1, "In the beginning God created the heavens and the earth." What is Heaven? Some ethereal, non-physical place where spirit beings sit on clouds playing harps eon after eon after eon after boring eon? Hardly!
In Alcorn's biblically-accurate hands, Heaven becomes what God designed the Garden of Eden to be—a physical place of beauty, a relational place of harmony, and a purposeful place of meaningful, creative work without weeds.
Read Alcorn's Heaven. It could and should change how you live on Earth now. It could and should change how you view how you will live for all eternity. This is clearly the best book on Heaven that I have ever read.
This review was written by Dr. Robert W. Kellemen, author of Beyond the Suffering: Embracing the Legacy of African American Soul Care and Spiritual Direction, Spiritual Friends: A Methodology of Soul Care and Spiritual Direction, and Soul Physicians.
— Dr. Robert W. Kellemen
---
According to Alcorn, the subject of heaven rates as one of the least accurately discussed subjects in the whole of Christendom. Alcorn is astounded that the majority of Christians possess faulty, nonbiblical assumptions about heaven. In part one, "A Theology of Heaven," Alcorn, however, discusses these and other questions: Is heaven beyond one's imagination? Can a person know he is going to heaven? What is the nature of the intermediate heaven? Is the intermediate heaven a physical place? What is life like in the intermediate heaven? Why is earth's redemption essential to God's plan? Why is resurrection so important? Will the old earth be destroyed or renewed? Will the new earth be familiar? What will it mean for God to dwell among His own people? How will believers worship God? What does God's eternal kingdom involve? Will believers actually rule with Christ?
Part two follows with chapters on these and other questions: Will the new earth be an Edenic paradise? Will there be space and time? Will the new earth have sun, moon, oceans, and weather? Will people eat and drink on the new earth? What will Christians know and learn? Will there be marriage, families, and friendships in heaven? Will infants and children be in heaven? Will animals inhabit the new earth?
Part three addresses the adventure of heaven and believers anticipating it as their home. The two appendixes are insightful: "Christoplatonism's False Assumptions" and "Literal and Figurative Interpretation." "Christoplatonism" is a term coined by Alcorn to refer to a blend of Platonism with Christianity that "blunts the distinction of Christianity from Eastern religions" especially in relation to the afterlife.
Alcorn's convictions about heaven are tempered by his willingness to be corrected if his conclusions prove incorrect. When speculating or assuming, he clearly states that he is doing so. Being biblically correct is his utmost priority.
Heaven can be an extremely helpful ministry tool for grieving Christians, people facing terminal illness, counselors offering biblical hope, Christian study groups, and unbelievers. The book is extensively footnoted and has a well-selected bibliography.
— Larry Waters This review originally appeared on Bibliotheca Sacra the website of Dallas Theological Seminary.
---
If you spend a good deal of your time wondering about what will happen to you and your soul the very moment that you die, Randy Alcorn can offer you a detailed explanation for all your inquiries in his book Heaven.
Alcorn gathers all the knowledge he has collected while dedicating his time in serving the Christian community. A pastor for almost fifteen years, a seminary professor, a very active preacher, a founder of a non-profit religious foundation, and now an author for Christian literature and spiritual guidance.
Alcorn's own milestones speak more than just about the recognitions that he had received, for all his works point to his never-ending quest for truth. And in his latest journey, he pours all his time in studying and researching about the most curious "place" in the world of Christianity.
Alcorn writes Heaven with a perfect balance of ease and emphasis. He talks about the idea of Heaven as a theological concept, basing his points on Scriptures and the actual texts of the Bible. He explains, with authority and humility, what Heaven is from the true Christian point-of-view.
Alcorn communicates with his readers, asking them to drop the false connotations they have picked up from pop culture broadcasts. Heaven is not a place where the departed ones float endlessly. And Heaven is definitely not a gathering area where human-turned-angels spend their every minute playing a golden harp.
Alcorn's Heaven offers a thorough study of what our most-awaited holy place is like. Alcorn walks his readers through a series of questions—the very same words that each of us asks. Whether they be the common curiosities brought on by what we usual see in various medias, such as "Can we really watch everything that happens on Earth when we are in Heaven?" Or it could be the seemingly weird, yet equally curious, questions like "Will we still be able to eat or drink in Heaven?" or "Will we still be attentive of time?"
Alcorn provides satisfying answers to all these questions, and all are backed up by proper contextual evidences. Alcorn even ventures by breaking the confusion that we have come to believe with a simple message: Heaven is not the place we will forever thrive in once we leave our physical world, it is merely a "stop over" where we will have to wait until God reshapes the Earth and brings us all back to it.
If there is one book you should trust in your own hunger to understand heaven in all its entirety, Randy Alcorn's Heaven can make you realize how much you really know and how much more you didn't know about the plan of God for our real home.
— Chris, This review originally appeared on Christian Book Reviews: http://www.believersbookreview.com/ On June 30, 2010.
---

Randy Alcorn has spent a number of years studying what the Bible has to say about Heaven. In this book, he refutes the idea that Heaven is a spiritual realm where we will be like disembodied ghosts floating around some alternate reality. Instead, Alcorn artfully paints a picture of a place where we will have resurrected bodies much like the ones we have now, except free from all disease and pain. He tells of a world in which we will be reunited with loved ones who died in the Lord, go on fantastic adventures, enjoy relationships with Christ and with one another, eat, drink, laugh and love—all without the presence of sin. If you seek to live a Christian life with an "eternal perspective" this book is a must.
— Sean Murphy This review originally appeared on Responder Life Articles and Media Center, http://media.responderlife.com/ on November 30, 2009.
---
According to Alcorn (The Treasure Principle, Deadline, Safely Home), the subject of Heaven rates as one of the least accurately discussed subjects in the whole of Christendom. Even seminarians fail to give appropriate time and attention to Heaven as described throughout the Bible because other themes take pre-eminence both chronologically and preferentially. Alcorn is likewise astounded that the majority of Christians who do take time to consider Heaven often possess faulty, nonbiblical assumptions, one of the most common being the misconception of Heaven as a place of unending church services.
The author, who is also the founder of the nonprofit organization Eternal Perspective Ministries (EPM), has spent years studying what the Bible says about Heaven, and in this compelling and comprehensive resource, he offers every conceivable question about Heaven, or the "New Earth," as Christian believer's ultimate destination. Alcorn answers the expected queries on heavenly life as well as quirkier ones: Will Christians drink coffee in heaven? Will there be homeownership, and What about sex? Will our pets be in Heaven? Evangelical scholars and laypersons alike will appreciate Alcorn's expansive—though perhaps long-winded—musings on this neglected subject, a real boon in a time when many people are eager to understand what happens after death.
This review originally appeared on Publisher's Weekly.
---
Randy Alcorn offers a biblical tour of the place we call Heaven. His 516-page treatise challenges our faulty perceptions of the afterlife with the God-given promises of Scripture. He exhorts Christians to replace their contemporary confusion with biblical clarity, calling them to live in light of their future home. One day, we will be with Christ in the place He has prepared for us (John 14:2). Time after time, the Scriptures remind us to keep an eternal mindset and to think on things above. The doctrine of Heaven, then, should not be relegated to the tangential and unimportant. Rather, it should be preached, taught, studied, and loved. In calling us to this end, Randy Alcorn has done American evangelicalism a wonderful service.
— Nathan Busenitz This review originally appeared on Grace Community Church's website, by Nathan Busenitz, Shepherds' Fellowship Director.
---
Do you think of Heaven as a place where disembodied spirits float in the clouds, listening to harp music for eternity? Many people stereotype life in Heaven as a church service that never ends. In his thought-provoking new book, Randy Alcorn dispels all misconceptions about a believer's eternal destination and presents a compelling case for one of the least-talked-about subjects in Christianity. Alcorn based his entire book on biblical study, research, and extensive reading on the subject of Heaven. The book is divided into three sections: "A Theology of Heaven," "Questions and Answers about Heaven," and "Living in Light of Heaven".
In "A Theology of Heaven," Alcorn explains that contrary to a popular belief, Heaven is a real, physical place where bodily resurrected people live and engage in various meaningful creative activities. Heaven will not be a foreign place for us but we will recognize it as home: "Too often we've been taught that Heaven is a non-physical realm, which cannot have real gardens, cities, kingdoms, buildings…So we fail to take seriously what Scripture tells us about Heaven as a familiar, physical, tangible place."
The book captures surprising aspects of Heaven that I have never considered before. To start with, Alcorn points out the difference between the present Heaven and the ultimate, eternal Heaven. The present Heaven is where we enter when we die, but it is not our final destination. After the resurrection, according to Alcorn, we will relocate to the eternal Heaven or the New Earth in which God intended for us. This beautiful and joyous New Earth will be a perfect place where all creation will be redeemed and restored, and "where God will dwell with his people on the New Earth."
Part two of Heaven contains eye-opening information that will satisfy the reader's curiosity. Alcorn presents common questions people ask about Heaven and answers them with clarity and wit. Some of the questions are the ones that I wanted to know but could not find definite answers anywhere: "What will we do in Heaven?" "Will we rest and sleep?" "Will we literally eat and drink?" "Will we have our own homes?" and "Will we see our pets again?" Others are queries that are a bit strange but good to know: "Will we drink coffee in Heaven?" "Will we find books in Heaven" "Will we all have beautiful bodies?" and "What languages will we speak?"
Another strong point about this book is its easy-to-follow format. Different charts and notes are helpful in understanding the book's content. Alcorn uses everyday language that is easy to understand even for the reader who might not be familiar with biblical terms or theology.
Heaven is a well-written, thorough, refreshing book that will change the way you think of eternity. It will make you appreciate your life now but at the same time long for the future. I highly recommend this book for anyone who is interested in exploring this fascinating subject.
— Sukalaya Kenworthy, Kansas City Public Library book reviews, www.kclibrary.org
---
Several of us gathered in our living room last week to discuss the book Heaven by Randy Alcorn (one of Vital Signs Ministries Book It! selections for this summer) and it was clear that the impact had been tremendous on us all. One must be careful of using such words as life-changing when describing anything—there is a serious responsibility inherent in doing so—but I use the term with ease and complete confidence in describing my reaction to Randy's thoroughly thrilling book. It was a delightful, inspiring, informative, provocative...and yes, life-changing book for both my wife and me.
Those of you who have checked out my list of Indispensables, the ten books I believe are most valuable for Christians, will know that Heaven, Your Real Home by Joni Eareckson Tada is on that list. Well, Randy Alcorn's book will not displace Joni's...but it will nevertheless shoulder its way in beside it!
Heaven will challenge your preconceptions, enlighten your fondest hopes, and shake up your suppressed fears that heaven is going to be a never-ending church service!
I recommend it as heartily as any book I've ever discussed on The Book Den.
— Denny Hartford, Director ofVital Signs Ministries and producer of the daily radio commentary, "Vital Signs" and reading group, "Book It!"
---
Alcorn Hits Another One Out of the Ballpark
Heaven is another great novel by Randy Alcorn. This book tackles so many hard questions concerning the present and future home of Christians that I found it hard to stop reading and highlighting what I read. Alcorn uses logic to paint an intriguing and exciting picture of our real home, the one we are originally designed for.
As Randy addresses in the beginning of the novel, we believers know little about our future home. The actual physical characteristics of Heaven and the inhabitants are not usually addressed from the pulpit, especially to the degree at which they are discussed in this book.
The following excerpt explains are dilemma quite well:
Imagine you're part of a NASA team preparing for a five-year mission to Mars. After a period of extensive training, the launch date finally arrives. As the rocket lifts off, one of your fellow astronauts says to you, "What do you know about Mars?" Imagine shrugging your shoulders and saying, "Nothing. We never talked about it. I guess we'll find out when we get there." It's unthinkable, isn't it?]
Yet isn't that where most of us Bible-believing people find ourselves? At a loss to explain the home we so long for. This book is an excellent attempt at using scriptural truths to teach us about Heaven.
I will put my dwelling place among you, and I will not abhor you. I will walk among you and be your God, and you will be my people. (Leviticus 26:11-12)
Do we take such verses to mean God will literally be "walking"? I believe Randy makes a great logical case for much of what he proposes in Heaven. He is an excellent researcher, writer, and of course (the most important detail), follower of the Messiah. I have read most of Randy's books, a lot of his articles, and I find him to be a man who relies on the Bible for the basis of everything he does. He also seeks out the sincere and Gospel following works of others to enhance his work.
If you have questions about Heaven, and I can't imagine you don't, this book is a great place to start. Heaven is a book that challenges the reader to look deeper into what the Word teaches about our everlasting home:
Will there be marriage, families, and friendships in Heaven? Will we recognize each other in Heaven? Will we have our own homes in Heaven? Will we sleep in Heaven?
Yes, it is difficult to know with 100% accuracy the answer to some of these questions, but scripture does actually point out some very important clues to help us tackle these questions. Heaven is a well-researched, well-written novel that challenges us to learn more about the incredible home God has designed for us.
As an author myself, I highly recommend this book. In fact, I highly recommend any book written by Randy Alcorn. He is today's C. S. Lewis.
— Dan Blankenship
---
I received a 500-page book entitled Heaven written by Dr. Randy Alcorn, the founder of Eternal Perspective Ministries, who after spending 25 years of extensive research on eternal issues penned this tremendous masterpiece.
I was so overwhelmed with joy, inspiration, and spiritual illumination that I discarded the letter I had written, because the Spirit of God directed me to place in your hands - immediately - the most enlightening book I have ever read on heaven - including all 11,000 of my volumes covering 58 years of ministry. I totally agree with Dr. Stu Webber who stated, "Other than the Bible itself, this may well be the single most life-changing book you will ever read."
In this easy-to-understand 500-page book, containing 46 chapters and approximately 300 complex questions about heaven, even I learned new concepts about our glorious eternal home. Dr. Alcorn grabbed my attention immediately when he stated, "We glibly sing that this world is not our home, we're just passing through." He continues, "This is completely wrong for when Christ returns to earth (Matthew 6:10) and millions of heaven's citizens return with Him, (Jude 14) this earth will be our home not only for 1,000 years but forever, because the third heaven of II Corinthians 12:2 will have been moved to our renewed earth." Wow!
I have also been proclaiming this same truth, but have never considered the 300 shocking, stirring, thought-provoking scenes described in what I believe is one of the greatest books I have ever read.
In this very understandable masterpiece, Dr. Randy Alcorn, after 25 years of research, invites you to picture a bright, vibrant, new earth brimming with Christ's presence and natural beauty. If you've always thought of heaven as a realm of disembodied spirits, clouds and eternal harp strumming, you're in for a shock. Get this dynamic book and learn 300 new and glorious facts about heaven on earth forever.
Joni Erickson Tada who has been totally paralyzed for years states, "Randy does an awesome job of answering people's toughest questions about what lies ahead on the other side of death."
— Jack Van Impe, Evangelist and television host