Heaven Book: Readers' Questions and Randy's Answers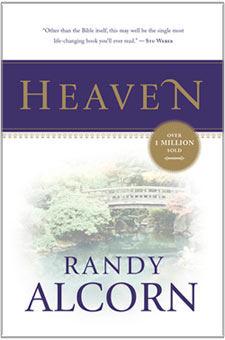 What does the Bible mean by the term "new heavens"?
---
How can you say there will be oceans in Heaven when Rev. 21:1 says something different?
---
Is there biblical support for your idea that we may inherit worlds (including Venus, the morning star) one day?
---
Will there be literal seas in Heaven?
---
Are we instantly with the Lord when we die?
---
Will we still have our chronic illnesses, such as diabetes, with us in Heaven?
---
Will God create new beings for us to rule?
---
Why don't you say much about what our lives will be like in the present Heaven in your book?
---
Why do you say the Bride of Christ is the Church?
---
How does the scriptural definition of the New Earth differ from that of the Jehovah Witnesses?
---
What is the poem you refer to as one of your favorites in the Heaven book and who wrote it?
---
In leading a study through your Heaven book, I came across what appeared to be a misunderstanding of the 1 Corinthians 2:9-10 passage. What is your response?
---
If when we die we are judged and go immediately to the intermediate Heaven as Randy states, how can Revelation 20:5 be true?
---
Do we have to wait to be with Christ until the New Earth?
---
What do you think about the Catholic and Eastern Orthodox views of Saints who have more access to God than the rest of us?
---
When writing about the New Earth, did you mean to leave out the New Jerusalem, which is the final Heaven, and is described in Rev. 21 and 22?
---
Is there an "intermediate Hell" counterpart to the believer's "intermediate Heaven"?
---
Catholics believe in purgatory. How would you explain that concept/location versus the intermediate Heaven?
---
Many people have questions regarding Heaven. How can you be sure that your depiction of Heaven is the correct one?
---
Does the idea that we may inhabit other planets lend credit to the Mormon belief that you get your own planet when you die?
---
What do you want people to gain by reading your Heaven book?
---
Please explain your interchangeable use of the Hebrew words bara (create from nothing) and asah (restore) in Chapter 9 of Heaven.
---
It seems you have already sentenced each person to their final spot, prior to Christ doing the sentencing. What am I missing?
---
In Isaiah 65:17 it sounds as if Isaiah is saying that in the new heavens and new earth people will die. How do you interpret this text?
---
Where is the location of the 3rd Heaven you mention when discussing the rich man and Lazarus?
---
What does the term "Second Adam" when referring to Christ in your book?
---
Wouldn't a better word for "intermediate"—regarding the state of the person after death but before the resurrection—be "incomplete"?