Books on the Subject of Spiritual Warfare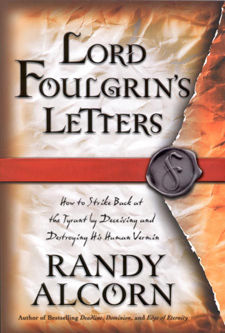 To those wishing to explore a biblical perspective on demonic nature and activity, as well as spiritual warfare, Randy recommends these books:
3 Crucial Questions about Spiritual Warfare, by Clinton Arnold (Baker Books, 1997).
Lord Foulgrin's Letters, by Randy Alcorn
What the Bible Says About Angels, by David Jeremiah (Multnomah Publishers, 1998).
The Serpent of Paradise: The Incredible Story of How Satan's Rebellion Serves God's Purposes, by Erwin Lutzer (Moody Press, 1996)
Systematic Theology: An Introduction to Biblical Doctrine, by Wayne Grudem (Zondervan). Chapter 19 "Angels," chapter 20 "Satan and Demons" (also deals with spiritual warfare).