Endorsements and Book Reviews of Courageous
Endorsements of Courageous
Courageous has won approval by The Dove Foundation Review Board. This means the Foundation believes

that the content expressed makes for the kind of entertainment family members can enjoy together with confidence. The Dove Family Approved Seal is awarded to movies, DVDs, made for TV movies and specials, books and other entertainment products that portray and encourage positive values. Click HERE to read the complete Dove Foundation review of Courageous.
— Scott Rolfe, Reviews Administrator for The Dove Foundation, www.dove.org
Reviews of Courageous
Courageous, a novelization of the screenplay of the same name written by Alex Kendrick and Stephen Kendrick, follows the story of four men serving their country in one of the hardest jobs there is, as law enforcement officers. As each of them face tough situations on the job, they face equally difficult circumstances at home, learning to draw upon God and each other to sustain them.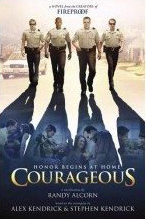 I greatly enjoyed reading Courageous, not only for the entertainment it provided through it's fast-paced read, but for the men that were held up as heroes. The characters are well-developed, three-dimensional men who struggle with real problems while trying to live out godly lives. I laughed out loud at many parts, such as when Adam gets off the phone with his wife, and moments later also talks to the Sheriff on the phone and then proceeds to bid him "Love you. Bye". I particularly found this funny as I've done the same thing to my own boss! Other parts, such as when a child dies, are heart-wrenching. I couldn't believe it when I found tears in my eyes!
The book was very well-written, not only entertaining me but creating much food for thought. Topics like fathering, being a good husband, or trying to make sense of tragedy are handled in a refreshingly honest and direct way. Some of the book seemed a bit preachy in terms of driving home the point about the importance of fatherhood and the impact that not having a daddy has on children. However, that message is so vital I can't really fault the author for trying to make sure the reader understands what he's saying. Fathers have a high calling, and we need other guys in our life to hold us accountable to that calling. When Adam is contemplating the fact that so many men think asking for help is a sign of weakness, I couldn't help agreeing that this is all too true. Who knows how many men could be better husbands, help save their marriages, turn away from pornography, be better fathers, if they'd reach out for help when needed?
I highly recommend this book to all readers, but especially to men out there who are fathers or who may be fathers one day. The book is sure to get your adrenaline pumping while it stirs your soul. 5 out of 5 stars.
— J. Harder, as posted on christianfictionaddiction.blogspot.com
---
Brimming with optimism over a "…new job, new house and new start" in Georgia, Nathan Hayes topped off his tank, got into the pickup and turned the key before he remembered the "carnage…of June bugs…on his windshield."
He stepped back out, left the "…truck running, door open and reached for the squeegee…in seconds…the door slammed…and the truck pulled away from the pump!" Nathan's nightmare with the Gangster Nation's gang leader had just begun.
Randy Alcorn's well-done novelization of Courageous, Sherwood Pictures first release since their surprise hit, Fireproof, the highest grossing independent film of 2008, doesn't disappoint. Twenty percent of the story is based on Alex and Stephen Kendrick's screenplay, scheduled for movie release September 30, 2011. Eighty percent is the author's interpretation.
While Fireproof involved fire fighters and marriage, Courageous is about fatherhood, absentee fathers, accountability, relationships, teens, gangs and mentoring. In a story that leads to a new resolution with a serious moral message set against the backdrop of policemen who are called to "serve and protect." Although law enforcement officers give their best on the job, the story asks if they have anything left to "serve and protect those most dear to them."
The story opens with a tense carjacking that pulls readers into the lives of officers Adam, Shane, Nathan and David. Javier portrays a simple, yet powerful, faith-centered, devoted father, husband and immigrant worker. Everyone thinks he was hired because of mistaken identity, but Javier knows his job is an answer to prayer.
When tragedy strikes Adam's family, his pastor encourages him to become a "student of God's Word" where Adam accepts the challenge to set a better example, be a better father and get right with his teenage son Dylan. That leads to a resolution of commitment and "…responsibility to call out the man…" in the officers sons.
Alcorn's emotional depiction of Derrick Freeman, an honor student raised by his grandmother, illustrates how fatherless youth are drawn into drugs and street gangs. His portrayal of Derrick's gang initiation, punishment and acceptance of pain to feel accepted, wanted and needed, brings tears.
Adam's relationship with his son Dylan is realistic and memorable, as is the cost of love, time, commitment and sacrifice to forgive, heal and start again.
A reading group guide, colorful production and movie photo inserts and a special message from Alex & Stephen Kendrick complete the book, from the ministry arm of Sherwood Baptist Church in Georgia.
Strong, vulnerable characters deliver a strong moral message wrapped in an action-packed story of realism that grabs the reader and doesn't let go until the last page is turned. This is a story of and for today that belongs on the bookshelves of every family, church and library. On a scale of ten out of ten, Alcorn's adaptation is an eleven.
— Gail Welborn, as posted on Examiner.com and The Cypress Times
---
The statistics are sobering. When fathers are absent, whether in body or in spirit, their children suffer and the family unit, which may look ideal from the outside in, is disintegrating day-by-day.
Randy Alcorn has written a novelization of the screenplay Courageous by Alex and Stephen Kendrick, which has been made into a major motion picture scheduled for release Sept. 30, 2011. The movie production is the fourth by Sherwood Pictures, a ministry of Sherwood Baptist Church, in Albany, Georgia, which also produced Fireproof, Facing the Giants, and Flywheel. Fireproof was the number-one independent film of the year in 2008.
The novelization, published by Tyndale House, is scheduled for release in August. "Tyndale is a company founded on the desire of a father to reach his children with the power of Scripture," said Karen Watson, associate publisher of fiction at Tyndale. "The strength of the energy behind the Courageous initiative and the powerful storytelling team of the Kendricks and Randy Alcorn promise a novel with long-lasting impact. We are proud to partner on the Courageous team."
A page turner from the first chapter, the characters come alive as they struggle against the forces of evil as law enforcement officers and then against raging currents at home that take their children farther and farther away from them and from God.
Set in Albany, Georgia, the fast-paced drama chronicles how danger, death and temptation underscore the need for leadership in the home, the need for fathers who will put family first, measuring their character against the character God desires of those he calls to be fathers.
Alcorn, the author of several successful novels, including Deadline, Safely Home, (this reviewer's personal all-time favorite), The Ishbane Conspiracy and Dominion, brings added depth to the story with additional characters and subplots as well the backstory not in the movie.
— Dawn Cribbs, posted on www.mccookgazette.com
---
In Courageous—the novelization by Randy Alcorn of the screenplay Courageous by Alex and Stephen Kendrick—the theme of family leadership is examined from a biblical perspective as applied to a 21st century environment. What happens to a fatherless home? Police officers Alex, Nathan, Shane, and David continually deal with gang crime in Albany, Georgia. They see firsthand the pain and brokenness that result when fathers are absent. By clinging to God's truth, these four men learn that it takes more than having children to be a father. It takes courage.
The Scriptures are filled with examples of marvelous fathers, from Jesse, the father of David, to Joseph, the earthly father of Jesus. But the Bible also tells of the incest of Lot, the drunkenness of Noah, the adultery of David, and the pagan indulgences of Solomon. When fathers fail to follow the will of their own Heavenly Father, the results are disastrous. This novel shows that such rules and guidance are still applicable to today. As four contemporary cops try to curb the drug trafficking, street violence, and drive-by shootings in Georgia, they discover that most of these crimes are caused by boys who grew up without strong male role models, without proper family discipline, and without manly love and protection.
This book is based on the script used by Sherwood Baptist Church Productions, the creators of Facing the Giants and Fireproof, in filming the movie version of Courageous. This book's plot, character development, and life applications are all excellent. The heart-pounding twists and affirming story lessons make it a hard one to put down. Due to the drug references and gang violence, this story is appropriate for older readers, namely teens and adults. Because of the terrific story and deep biblical applications, I highly recommend Courageous.
— Molly Anderson, www.ChristianBookPreviews.com
---
I had mixed feelings about reading the new Courageous novel. I knew the movie would be good—how could the makers of Fireproof and Facing the Giants make anything else?—but I wasn't so sure about a book made from a movie.
Alcorn's Courageous far surpassed my expectations.
Adam is a long-time cop whose cynicism has pushed away his son and affects his relationships with his wife and daughter. Nathan is new in town and struggling to be involved with his three children and keep his faith active despite job pressures. Javy struggles to support his family and leans heavily on his strong faith, but does his family share his views? David has turned his back on his daughter and her mother completely. As each strive to hold their head above water and survive despite intense stress, their perspective changes when tragedy strikes one man's family. Can his new views of eternity and his role as a father improve his relationships - and those around him?
Alcorn's easy writing style makes it seem as if this novel happened before the movie. It has none of the trademark novelization issues—it's easy to read, flows well, has a great vocabulary, and features a tight plot. Each character sprang to life within the pages of this book and made me want to cheer them on in his efforts to become closer to God and family. The conclusions reached by Adam and his friends prompted me to rethink the way that I interact with my own children and to wish for these types of friends myself.
The only thing that would make this book any better is a companion guide, as the Kendricks created for Fireproof. A non-fiction book containing Adam's research, conclusions, and the scriptures he used would make a fantastic springboard for those wanting to delve deeper into this subject - just like The Love Dare did for Fireproof fans.
If you like action and suspense ... if you like to laugh ... if you like drama ... if you have a family ... if you are a parent ... if you have friends ... if you don't but wish you did .... this is the book for you. Don't miss it.
— Amy Bradsher, blogger at anestintherocks.blogspot.com
---
I've been a fan of Alcorn's fiction (and his non-fiction) for a while. Books like Safely Home, Deadline, and Lord Foulgrin's Letters are some of my favorite novels. He has a knack for describing situations, actions, and the thoughts of his characters in such a way that really reveals how their worldviews are affecting what they say and do. He understands how non-believers think and paints realistic portrayals of their motivations. He's also very good at tugging on your heartstrings when needed.
These strengths are on display in this new book, Courageous. Delving into issues of fatherlessness, neglect, and apathy, the story's numerous subplots examine many different situations and how fathers can and should handle them. There's a subplot with a young man and a gang situation that shows why many urban youth turn to that as a source of pride and stability.
The men in the story commit to a "Resolution," a series of promises to God and their families to fulfill their roles as husbands and fathers. The text itself is very biblical, and essentially a paraphrase of the passages in scripture aimed at those roles. While the ceremony to sign the Resolution comes off a bit corny in the book, it would be fantastic to see more Christian men take their roles seriously and truly commit to these words as they serve their families.
I've enjoyed the movies for Facing the Giants and Fireproof, not because they are great art, but because it's enjoyable to see a movie made from the worldview you hold. I felt very challenged as a father reading this book, yet thankful for that role as well.
There's a fatherless generation growing up around us, both those who have been physically abandoned and those who've been left emotionally. While there are probably works that deal with these issues with a little more nuance than this story, there are few likely to have the widespread impact this can have. I'm thankful for what the Kendrick brothers and the people at Sherwood Church are doing, and I'm thankful they partnered with a talented author like Randy Alcorn for the book version.
— Matthew Robbins, as posted on www.chosenforgrace.com
---
It's about police officers, but it isn't. It's bigger than that. It's about fathers, but it isn't. It's bigger than that. It's about troubled teens, but it isn't. It's bigger than that. It is about a society that is on the fast track to loosing it's young people if men don't start taking the place of leadership God intended for them to take in their homes and families. A type of leadership that says, "I love you too much to sit back, and allow you destroy your life." It's about active leadership.
The book Courageous by Randy Alcorn is a novelization based on the screenplay by Alex and Stephen Kendrick. It follows the lives of several policemen, one immigrant worker, and each of their families. When tragedy strikes, one father, takes the advice of his pastor to "become a student of God's Word." Through his studies, he realizes that he must make some changes in his life. He writes a resolution, and asks his friends to join him by adhering to it and being accountable to one another. His friends realize how important it is and agree to work together to help one another live the resolution.
The characters are both strong and vulnerable. The plot is both interesting and believable. I love the strong moral message. I love that Alcorn stays true to some of his deepest convictions by having one of the characters volunteer at a Crisis Pregnancy Center. I also love that Alcorn includes characters from past movies by Sherwood Pictures: Fireproof, and Facing the Giants. I was disappointed to find out that one of my favorite characters, Bronson, is in the book but not in the movie. But that is all the more reason to read the book, so you don't miss out on the colorful antics of Bronson!
— Tricia (blogger), as posted on twotiarasandasword.blogspot.com
---
Courageous takes place in Albany, Georgia not coincidentally the town of Sherwood Baptist, the makers of the movie. Alex and Stephen Kendrick have created stories centered around a high school football team and the local fire department. This time the Kendrick brothers have developed a movie about Albany's police department. Meet the characters:
Deputy Nathan Hayes has moved to the small town of Albany, Georgia to get his family out of Atlanta. He especially wants to direct his daughter, Jade, from the sort of friends she was attracted to. He soon finds that even small towns have their gangs and drugs because they suffer from the same epidemic that is afflicting every corner of America.
Deputy Adam Mitchell loves his daughter Emily because she's "low maintenance" as he puts it. She's young and eager to love her daddy and idolize him. He isn't as close to his teenage son Dylan who's sullen and defiant. His wife insists he needs to spend less time at the station and more time with his family and especially his son. When tragedy strikes his home he finds himself woefully unprepared to cope.
Sgt. Brad Bronson, "six and a half feet tall, over three hundred pounds" believes in pounding the "perps" (perpetrators) first and asking questions later. He hates Diane Koos, the woman who's been hired as the PR, the go between for the public and the department. He believes she's been hired to make the police look bad and he can't be prissy about following all the rules.
Rookie David Thompson is still unsure of himself, still making mistakes. As he struggles against his own insecurities, Adam Mitchell calls all the men on the police to rise up and take the lead as Godly men and fathers in their own homes. Does this apply to David as well?
Courageous takes us inside the lives of each of these men and how they balance their personal lives with work. It shows the danger and stress policemen have to deal with every day and how their work impacts their families. The book also examines the problem of gangs, why young men join gangs, how they get involved in drugs and how they end up either in jail or dead on the streets.
Years ago Gloria Steinem said that a woman needs a man like a fish needs a bicycle. People have bought into this absurd assertion for the last forty years and fatherlessness has scourged this country producing a pandemic of children growing up with no male role modeling or the love children desperately need from a dad.
Randy Alcorn has done a good job converting this movie into book form. I recommend it as a suspenseful and enjoyable read.
— Sharon Henning, as posted at sharonhenning.blogspot.com
---
I just finished Courageous, the Novelization of the movie, by Randy Alcorn. Woo Hoo! I knew I was not going to miss this movie, but I am so glad I got to read the book first.
The message in this book is one that everyone needs to hear. It reminds us of the great importance the role dad has in the family. Whether you had a good or bad father, this book's message is one of forgiveness and redemption. Each man in this story has his own story with (or without) his dad.
The book was wonderful. Each family in the story brought a different element to the table; issues addressed were abortion, divorce, alcoholism, drugs, and neglect. Each of the families in the story dealt with different issues, and I think that will help this book (and the movie) to appeal to just about everyone.
There is a great message about God. And each character truly tries to live up to the expectation they feel God has for them. There is redemption in many families in the story and it reminds us that there is time to fix what we have done wrong, and we can make a difference with our children. I really appreciated that the children in this story are real, they are facing real life issues, and this could certainly open lines of communication with our children as we watch the movie, with them, or without them.
I have always enjoyed Randy Alcorn's books, and again I was pleased with this one. I highly recommend this book whether you will see the movie or not, this is a story not to be missed! A great story with a wonderful message to all of us.
— Janelle Cole, as posted on usmajcole.blogspot.com
---
Randy Alcorn recently wrote the novelization, Courageous, to go along with the movie by the same name. The first third of the book introduced me to police action and the characters. After the first fourteen chapters to page 111, when I had essentially figured out the above characters, I couldn't put the book down until I had read all 362 pages. Then I knew why I had to get all of that early background for the last two-thirds of the book.
Alcorn milks this plot for a lot of Christian themes: God's leading, prayer, sanctity of human life, forgiveness, redemption, hospitality, responsibility of parents and even Charles Spurgeon, a favorite preacher of Alcorn. Some will call this a preachy novel. However, everyone is not converted in the novel, and we have an eternal perspectives ending to look forward to, not an earthly Hollywood ending.
You have to consider some questions: Why can't Christians wonder about eternity? Must novels only entertain? Why can't they instruct? Realistically Alcorn says at the end: "To most people, none of this—not what these men were doing now, nor what He [Christ] did two thousand years ago—made sense. From the outside, grace and truth, honor and courage, seldom do."
All in all Courageous is a refreshing read! I both teared and smiled throughout the book. With statistics that our youth are leaving the church, fathers, mothers and the church need to take note. Thanks to Randy Alcorn and movie makers Alex Kendrick and Stephen Kendrick for giving impetus to bring up the next generation in the fear of the Lord.
— Carol Johnson, as posted on Amazon.com