Courageous Novel Honors Script, Adds Characters and Context
A September 2011 interview with Randy Alcorn by Randall Murphree for OneNewsNow.com.
---
Car chases, shootouts, gang activity, corrupt cops, clear-cut villains and heroes, and the eternal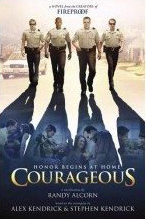 confrontation between good and evil—they're all present in Courageous the movie, which goes to theaters next week. The same elements and more also fill the pages of Courageous the novel.
What, you say? You didn't know there was a novel? How could you miss it? Advance press for Courageous the movie has long been marketing companion resources that will enhance the movie's impact and challenge men in all walks of life to turn a microscope on their performance in the arenas of faith, family, and fatherhood.

Randy Alcorn, award-winning Christian novelist, was hand-picked by Sherwood Pictures, which produced Courageous, to take the movie script and expand it into a gripping novel. Courageous the novel was in book stores earlier this summer, and it hit #1 on the fiction side of Christian Booksellers October best-sellers list.

Alcorn, founder and director of Eternal Perspective Ministries, is also a prolific non-fiction writer, noted for his prolife titles and his books on heaven. In an exclusive interview, Alcorn said it is no light assignment to take a movie script with fewer than 20,000 words and turn it into a novel with 84,000 words.

"The majority of the novel is going to be brand new," he said. "So that opens up a great challenge, not simply for me to create it. But my co-authors—Alex and Stephen Kendrick, who wrote the screenplay—need to approve of what I add to the mix."

Traditionally, in the world of entertainment, best-selling books often to find their way to the big screen. But in recent years, particularly in Christian fiction, the process is frequently reversed—a good, solid film is then adapted into a novel.

The story line of Courageous follows four sheriff's deputies and their handyman friend as they navigate the challenges of life—being good dads, unemployment, divorce, tragedy, weak faith or no faith. On the streets, they're extraordinary—dedicated, fearless, confident and hard as steel.

But when they look in the mirror at home, each one sees a man whose faith and confidence and commitment are sorely lacking. When tragedy strikes at home, it prompts some self-examination that impacts all four men in deep ways.

A second storyline looks at another element that helps effect change in their attitudes and behaviors at home. As they develop a friendship with Javier, a handyman working for one of the officers, his example provides a subtle and healthy challenge to the cops.

Alcorn maintains and fleshes out all of those story elements in the novel. "I think I was able to do full justice to the movie," he said. "I included every scene, with one exception; there was one scene I couldn't quite make fit in the novel." On the other hand, he included a number of scenes that, in order to keep the movie at two hours, the Kendricks had cut from the original screenplay.

In addition to mining those scenes, Alcorn created a few additional characters, not only to bring the story up to novel length, but also to offer context and back story that enhance the overall plot. For example, the novelist created officer Brad Bronson, whom he describes as "an obnoxious, hard-core, cynical deputy."

"I put him in there to have some entertainment, a certain amount of comic relief," Alcorn said. Bronson's persona and his role in the novel are not exactly funny, but his interaction with other officers creates some pretty amusing scenes. And he gives the writer a device by which to develop more depth in the main characters as they respond to the intimidating and acerbic Bronson.

Alcorn said he is already receiving many notes and encouraging stories from people who have read the novel. One man, a deputy sheriff, said his wife bought the book simply because it had cops on the cover. Initially, he didn't expect it to be anything of value for him but he read it anyway. He told the author: "It made me realize how far from God I had gone and I rededicated myself to the Lord as a result. This book touched me on the deepest level."

For Alcorn and the Kendricks, that testimony alone fulfills their vision, their prayer, their hope for Courageous—the novel and the movie.