A 6-minute video drama based on Safely Home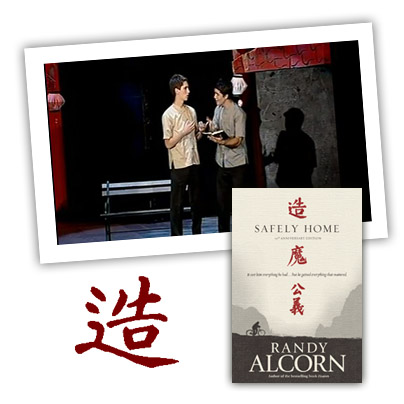 I was very moved by this video produced by Matthew Holbrook and the high school ministry of Grace Church of Orange. Matthew writes:
I lead the high school ministry at Grace Church of Orange and our group has an outreach ministry where we share the gospel through a series of 4-minute musical dramas. Over the years, we have developed over 50 such dramas. A couple of years ago, we developed and performed one that was inspired by Safely Home.
I came to Christ while in high school, and it's very encouraging to see high schoolers focus their attention on following Christ wholeheartedly. While the background songs you hear in this video have great words, the true power is in the wordless actions of the drama that tells the life-changing cosmos-shaking story. Not just one related to my novel Safely Home, but one lived out daily among God's persecuted people across the world. Watching this made me think of Revelation 12:11-12 and its words about people of faith and courage:
And they have conquered him [Satan] by the blood of the Lamb and by the word of their testimony, for they loved not their lives even unto death. Therefore, rejoice, O heavens and you who dwell in them! But woe to you, O earth and sea, for the devil has come down to you in great wrath, because he knows that his time is short!
Thank you, Matthew, and the youth of Grace Church. Hope the rest of you are as touched by this as I was: