30 Ways God, in His Grace, Has Used Eternal Perspective Ministries
Note from Randy: This month marks 30 years since Nanci and I started Eternal Perspective Ministries. (You can read the story behind its beginning here.)

When we think about what God has done in the last three decades through this ministry, we're grateful and humbled. We never could have envisioned its far-reaching impact. The kingdom outreach of the books is far beyond anything we anticipated. Then there's the royalty money distributed to God's kingdom as a result of the book sales!

"Now to him who is able to do far more abundantly than all that we ask or think, according to the power at work within us, to him be glory in the church and in Christ Jesus throughout all generations, forever and ever. Amen" (Ephesians 3:20-21).

God has done "far more abundantly" than we could ever have imagined, and even what we do know about the ministry's impact is just a glimpse of what we'll learn once we're in Christ's presence. (And, delightfully, the same is true of every faithful believer, family, church, and ministry!)

Please know that those of you who've partnered with our ministry through both giving and prayer play a vital role in our outreach. I feel like I can say with Paul, "Not that I desire your gifts; what I desire is that more be credited to your account [in Heaven]" (Philippians 4:17). We're deeply grateful for you, and rejoice with you too not only for the way God has used you through this ministry, but also for the eternal reward He will give you for your faithful service.

We hope you enjoy reading about 30 ways that God, in His grace, has used EPM and continues to do so. To Him be the glory!
1. To introduce readers to Christ through both fiction and nonfiction.
We get many comments from readers such as this: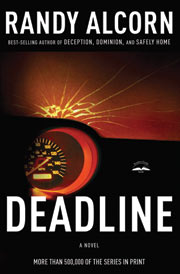 "I became a Christian after reading Deadline, which my boss gave me. I related to Jake very much. Glory to God for using you and her to plant those seeds that ultimately gave me eternal life!!!"
"I gave your book Heaven to my son in law who was dying in Italy. I worried because English was his second language. He read through the first seven chapters and gave his life to Jesus. He died a few weeks later. It was exactly what he needed."
2. To feed the poor, plant churches, advocate for the unborn, and spread the Good News of Jesus.
Randy has written fifty-some books (24 of which are also on audio, 13 of those recorded by him). To date, nearly $8.4 million in royalties from his books have been given to Christ-centered ministries around the world, including missions, discipleship, humanitarian relief, prolife work, Bible distribution, and much more. Another $2.8 million has been given away through our nine special funds, which donors designate to and EPM gives through when we have excess money in our general fund.
3. To encourage those who are suffering.
"My husband and I do a 'reading time' every night. He is at a stroke facility, and I am unable to see him in person. I love our nightly calls when I can read him to rest. Our last book was Seeing the Unseen where I would read 5-6 days to him, and we would ruminate in the truth of Scripture. It is a precious time and your words have been a part of it."
"I just finished your book If God Is Good. I have a son that has suffered from chronic illness and disability for 25 years. He is now 31. This book has helped me see how none of my son's suffering has been wasted and realize how God has used him to change so many lives as he has not walked away from God."
4. To comfort those who are grieving.
"My daughter was abducted and murdered over 22 years ago. Thank you, Mr. Alcorn, for your book Heaven. Hope in her eternal life in Heaven brings me healing every day."
"I read your big Heaven book after my 4-year-old son went to be with our Heavenly Father. My other children and I also read Heaven for Kids together. I wanted to know more about what our son was experiencing and where he is. It was exciting and comforting to learn about and has been a huge part of our healing, knowing God's Word and trusting in His promises."
5. To help believers know and trust Jesus more deeply.
A reader suffering from a long-term chronic illness wrote, "I've fallen more in love with my Savior, and your works have kindled the fires of my spiritual life, thrusting me more into His Word."
"I have two friends who have no idea of who Jesus is. One is a teenager whose family is atheistic. The other is an old friend who is into re-incarnation. How do I reach them? I looked for a book which would tell succinctly who Jesus is—eternal God and our intermediary to God. The introduction to Face to Face with Jesus does that. The daily readings amplify this truth."
"I read Heaven and it rocked me. For the first time ever, I was excited about Jesus! I wanted to know Him more and more, because I finally trusted that He had good intentions toward me, He wasn't just out to ruin my fun. I'm just so head over heels in love with Him now, I can't stop talking about Him."
6. To encourage believers to remember their persecuted brothers and sisters around the world.
"I just finished Safely Home and words are hard to find to aptly describe the emotional and spiritual impact it had on me. …After reading this book, I feel that my missionary efforts should be focused on those who are being persecuted for their faith…I now feel the need and compassion to work with those who are desperate for God and His Word."
7. To fund the translation of Scripture into people's heart languages.
In addition to several hundred thousand dollars of book royalties that have been given to Bible translation groups, EPM is also supporting the Esimbi translation project in honor of our co-worker Karen Coleman, a former missionary to Cameroon who went to be with Jesus two years ago. In partnership with donors, so far over $68,000 has been given towards our $120,000 goal.
8. To provide quality, Christ-centered resources, including articles and video, for free.
"I wanted to tell you my story and how you changed my life. And how it all literally started with a blackhole! Over a month ago, I was scrolling Google news, and I saw something about black holes. I went to YouTube and entered 'how is a black hole made' then 'what's inside a black hole'...then 'how far does space go' to 'why do we have planets,' and then I moved to 'what happens when we die.' That's when I found you on the John Ankerberg Show. From there on you changed my life! You made me see Heaven in a whole new light! You made me excited about Heaven! Most of all, you helped me to not be afraid of death anymore, and you helped me to know with 100% where I'm going when I leave this old world."
9. To reach prisoners for Christ and disciple them.
Since 2003, EPM has sent over 104,000 books to prisoners, from those who are serving sentences for drug-related crimes to those who are on death row. The books are often shared with other inmates, so one book may be read by several people. One former inmate wrote us,
"I spent 4 years in prison... While there I was blessed to be able to order, free of charge, many books from you that helped me on my journey as a Christian. ...These books were food for my soul, literally. I craved receiving them and sent them home with my mother when I finished reading them. ...Had it not been for those countless books, from Deadline, Deception, and Dominion, to In Light of Eternity, and Heaven, I cannot say that I would be where I am today. They lit a fire inside of me for the Lord, and I just want you to know that I carry that with me still to this day."
10. To encourage believers to fix their eyes on Heaven.
"So appreciate your ministry that continues to put the things of this life into perspective. Thank you for keeping our eyes up, cannot wait to experience Heaven! Living with ALS now but I know who holds my life now and into eternity."
"Seeing the Unseen really captures the essence of eternity and I love listening to what God has to speak to me while reading this."
11. To change hearts and minds about abortion.
"Your book Why ProLife? has changed my entire opinion on abortion, for the better. I am an atheist and have been since I was a young child. Regardless I don't think anything is God's decision which is why I've been pro-choice and for the idea of abortion most of my life. Fact and evidence is the only way you'll get people like me to side with the pro-lifers. It's the obvious choice. I am also a philosophy student at my college, and I care a lot about morally right decisions and stances on issues. This book has most definitely opened my eyes."
12. To equip prolifers to graciously and winsomely share about the sanctity of life.
"I'm 19 years old, and just finished reading Randy Alcorn's book Why ProLife? I now feel more confident about engaging in abortion discussions knowing that I'm armed with informative facts and thought-provoking questions."
13. To save unborn lives.
A reader who travels to Kenya, and has taken along many copies of Randy's book Why ProLife?, shared with us a letter from a friend who operates a clinic, school, and pharmacy in the slums of Nairobi.
Her friend, who gives out copies of the book, wrote about a woman who was expecting her fifth child. Because she and her husband were struggling financially, they planned to abort. After the woman was exposed to the truth in Why ProLife? about her unborn child, she convinced him to talk to the clinic worker.
Initially, the husband was angry and even violent, but he later repented and accepted Jesus. Together, they planned on welcoming their child. The worker writes, "Many young girls come in[to] our small pharmacy and clinic seeking assistance for abortion, but this book is a tool of solution. Many lives have been saved and rescued because of this book."
14. To reach children and help readers teach their children about eternal realities.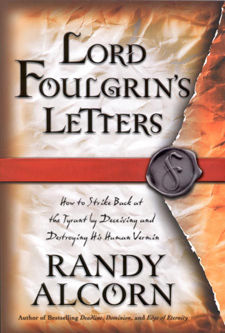 "Reading Lord Foulgrin's Letters as a family. My wife and I read it many years ago while dating. Praying that my kids (13, 12, and 8) have their eyes opened to the spiritual warfare happening around us."
"I wish it were possible to convey what a huge influence EPM and Randy have had been in my life and consequently in the lives of my kids, family and friends. I have four kids, 17, 16, 13 and 11, who see Heaven differently, and can argue against abortion, etc. because of his influence."
"Don't know if Randy Alcorn will see this or not but please tell him that he has helped me in so many ways. I'm a 13 year old boy who lives in a Christian home. I always knew God was out there but I didn't have a very good relationship with Him. When I read his book Safely Home it really hit deep with me. I always thought that church was boring but now when I hear God's Word I just want to hear more and more of his words cause he has blessed me far more than I could imagine. I have taken God for granted and I wanted to thank Randy Alcorn for helping me open my eyes and follow God."
Randy wrote him back, "It was so great to hear from you! When I was 13 I had never heard the gospel, and didn't until I was 15. Always thank God you were raised in a Christian home. I am really grateful that God used Safely Home in your life! And I'm so happy that you want to learn more and more from God's Word! Follow Him with all your heart and you will never be sorry! I certainly have never been."
15. To open eyes to the need for racial reconciliation, compassion, and unity.
After Randy shared an article by Shai Linne on his blog, a reader wrote:
"I have been praying and fasting from conversation on this topic…waiting for God to give me ears to hear and eyes to see. This article did it. I am heartbroken. …Shai Linne's humility in sharing helped me see and hear it. I will continue to pray for where I (not being black) can be constructive in my community."
16. To inspire readers to reach the nations for Christ.
"I read Safely Home (the first time), and it changed my life...I live in a town with a University that has 200+ Chinese students every year…since reading this book (now many times) I have been burdened to get to know these students and have been privileged to have many in my home to bake, eat and play games (and hear about Jesus). Also I am able to reach a class on Sunday mornings at our church for Chinese students to improve their English and hear about God's Word. This burden came as a result of this book…and I am so thankful."
17. To encourage Christians to pursue purity for Christ's glory.
A reader from Ivory Coast in West Africa wrote,
"I'm a young Christian, and I gave my life to Jesus in 2013 at 17 years old. I was really blessed by your teaching about sexual purity in your book The Purity Principle (Le choix de la pureté—that's the title in French, as I'm a French speaker). The devil held me by many things like pornography, sex addiction during seven years that was very difficult for me to give my best to Jesus. Now there is a long time (seven years) I live for Jesus and I serve Him...I testify what God has done for me to young people in order to bring them [the] Gospel."
18. To equip pastors.
"Thank you so much for your contribution to the church in so many ways. I recently finished If God Is Good in preparation for a sermon on suffering and was so edified by your thoughtful and pastoral approach to suffering."
19. To free believers to experience God-honoring happiness in Jesus.
"Just finished Happiness. Life-changing. I am not prone to hyperbole. I mean it. Thank you for helping me to not feel guilty about being happy."
20. To help believers embrace God's ownership and their stewardship, and in turn inspire and teach other believers to do the same.
"I'm a business science student at the University of Cape Town in South Africa and I've often wondered how we, as soon-to-be professionals, are to manage our money faithfully. Managing God's Money has really helped me to see how God expects us to use HIS money."
The extremely impactful Generous Giving organization was founded by four men who read Money, Possessions, and Eternity and decided to commit their lives to spreading the message of biblical stewardship and radical giving. Randy has had many meetings and phone calls with other young men who are speakers, writers, and ministry leaders in the financial realm, and his books, especially The Treasure Principle, have been used widely at events to raise funds for ministry outreach.
21. To inspire readers to use their money to further Christ's kingdom.
"My world has been rocked by reading The Treasure Principle. We manage millions and millions of dollars for our 300 families of clients. Thank you for the impact your work has had on me, and will have, Lord willing, on our clients and our church."
Randy has gotten calls such as, "I want to give a million dollars to prolife work. Where should I send it?" Once a business leader called Randy to say that as a result of something he said about giving at a conference, the man had given thirty million dollars away he hadn't planned on. Randy says, "I never imagined being able to speak into the lives of so many wealthy people. I thank God that I see them as just regular people, followers of Jesus who need to grow like I do, so I'm not tempted to tell them what they want to hear, but what I think they need to hear."
22. To invite believers to experience the joys of generosity.
"During this COVID-19 thing, we too were expected to receive some government funds, and after seeing Randy's Facebook challenge to give it away if you don't really need it, my wife and I discussed it, and decided to give away all of our IRS stimulus money that we had received: 10% to our church and the rest we split up between five different ministries."
23. To connect readers with Bible-believing, Christ-centered churches.
In many of his books, Randy invites readers to contact EPM to receive recommendations for churches in their area.
"I called EPM this morning, to thank your ministry and to get a recommendation on finding a church near Vancouver. She gave me this email to write my thanks. In my past I have made a few mistakes and have received a couple books, through your prison ministry. I got the chance to read some of Randy Alcorn's books that he wrote and they really touched me, especially Edge of Eternity. …I can never explain how you've touched me. Please tell Randy his writing is awesome and thank you for helping me locate a church near my house."
24. To teach Christians to think biblically about cultural and theological issues.
Randy has taught college and seminary courses on a number of subjects, some of which have been recorded and widely distributed by EPM. (These include Eternity 101, Happiness 101, and Theology of Money.)
"hand in Hand is a thoughtful, unbiased examination of scriptures about sovereignty and free will. No straw man arguments. Calls for unity since Calvinists still preach the gospel and Armenians call on God to save the lost. God is ultimately sovereign over all, yet I was encouraged that my choices and prayers are deeply meaningful-- without diminishing the greatness of God in any way. Randy also deals with the problem of pain with a non-fatalistic approach, full of compassion and encouragement."
"Every time I read any of your books, or anytime I read your blog, I read truth, and it grows my faith. I am so grateful for your clear thinking and writing. Your blogs on The Shack and Star Wars, etc. reassure me that my thinking on Biblical issues and ethics and Christ Himself is on course."
25. To reach and teach readers in languages around the world.
Randy's books have been translated into over 70 languages, and we offer resources in several languages on our website, including Spanish, Chinese, French, and more.
Readers from Mexico and Germany wrote us:
"Randy, blessings. I thank God and you for the privilege of having read your book Heaven [El Cielo]. My expectations were really met. I long for Heaven. I realize that it is not as I was taught! Now I have met him through this magnificent book, and I look forward to enjoying it. I also realize the importance of talking about it, causing others to yearn for it, and to fulfill the plan that God designed from the beginning."
"I'm a German woman and I read Post von Graf Moderthal (Lord Foulgrin's Letters) and Die Akte Jillian (The Ishbane Conspiracy). Your books are fantastic and tell us a lot of the battle between the Lord and Satan. It's a danger and most people don't believe it. I hope especially the youth can hear about this!"
26. To provide encouragement and perspective online through social media and Randy's blog, and in print through our magazine.
"Your blog is a great blessing in my spiritual life. Thank you."
"I enjoy and I'm so blessed when I read your magazine. I save them and read again and again, and pass them on. …I'm 87 years old, so you are helping us seniors. God bless!"
27. To minister to those who call, email, and message our staff, often with questions related to Randy's writings.
Randy says, "Nanci and I are profoundly grateful for the amazing team of people EPM has had over the years. When I travel and interact with people they often comment on how personal and helpful our staff has been to them not only when they are seeking resources but also are struggling with personal needs and deep questions. These are all people we would trust with our lives."
A reader wrote, "I cannot express how grateful I am for your support and encouragement. …Your words and the scriptures you sent helped me so much."
28. To interact with pro athletes and encourage them in their walks with Christ, and in using their platforms and resources for God's glory.
Six years ago Randy and Nanci both prayed for more opportunities to invest in young adults. Shortly thereafter Randy was asked to speak at a gathering of professional athletes at Pro Athletes Outreach (PAO). At the conference Randy was asked by an NFL quarterback he knew to join his core group (Nanci was also invited to meet with the wives). He met various players who he dialogued with during the conference and who afterward contacted him periodically with questions about scripture, theology, and helpful books and resources.
Randy was asked to start an online group where he has shared weekly posts from scripture for the last four years, related to personal spiritual growth, family life, and biblical truth. Randy and Nanci have continued to attend PAO conferences and build relationships with players and their wives. Randy says, "It's one of many examples in the history of EPM, including ministry to businessmen and prisoners, that I never envisioned. We're glad to be spiritual resources for these young men and their wives, and perhaps by enriching their lives we can be a small part of their unique ministries to their circles of influence."
29. To encourage men to embrace biblical fatherhood.
"I am a law enforcement officer in a small town. I just got done reading your book Courageous. You moved me to absolute tears and reminded me that God still does miracles. In my job, I get tired of dealing with people sometimes. It is hard. Last night I walked into the room where my two-year-old daughter was sleeping, opened my cell phone so I could see her, and she was okay. The story moved me into absolute tears, and it makes me want to hold my daughter and never let her go. Thank you for bringing this book into my life when you did. God's timing is always right."
30. To provide resources for military, hospital, and prison chaplains that can assist them in touching lives for Christ.
"Thank you so much for your many books sent to Baghdad, Iraq. The books were given out to soldiers and I was thanked over and over for the great books—both the novels and theological books."