Randy Alcorn: Deadline, Dominion, Deception
Note: This article originally appeared on Andy Naselli's website on May 5, 2009.
---
Over the last two weekends (and trailing into the wee hours of this morning!), Jenni and I listened to three more outstanding audio books by Randy Alcorn: Deadline, Dominion, and Deception. They're like modern Sherlock Holmes novels that deal in an edifying way with issues like abortion, racism, and faith and challenge readers to live in light of eternity.
Since Randy is the author, I expected the novels to be edifying. What I didn't see coming was his ability to write a riveting murder mystery. This partially explains it:
Who are your influences, sources of inspiration or favorite authors/artists?
Those who read Deception will see that I have a special love for Conan Doyle's Sherlock Holmes stories—every chapter begins with a Holmes quote. In Deception, I also pay tribute to the Nero Wolfe mysteries by Rex Stout. I've read or listened to most of the forty-seven Nero Wolfe books.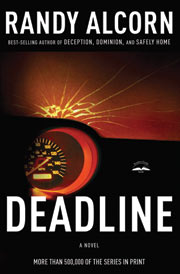 1. Deadline (Multnomah, 1994)
From Randy Alcorn's site:
Deadline is the story of a politically correct journalist forced by tragic and mysterious circumstances to come to terms with his own mortality. In the process he must also deal with the consequences of his skewed perspectives on life, family, morality, and religion. Intended for believers and unbelievers.
Deadline portrays friendship, family, faith, morality, social decline and media bias in the context of an unpredictable and hopeful story of personal crisis and change. The second story line, on death's other side, compliments the who-done-it mystery. Deadline is a unique pro-family, pro-values, pro-life, pro-faith book. It portrays the vital connection between how we think and live in the present, and how that will inevitably impact our future, both on earth and in eternity.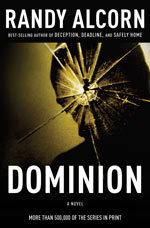 2. Dominion (Multnomah, 2006)
From Randy Alcorn's site:
Clarence Abernathy, an Oregon columnist and suburban middle-class black, is dragged into a world of inner-city gangs, drugs, violence and racial conflict. Clarence's anger at injustices he cannot control pulls him onto turf that becomes more dangerous by the moment. Encouraged by fellow columnist Jake Woods, Clarence forges an unlikely partnership with Ollie Chandler, a white homicide detective. As the case unfolds questions of racial prejudice and misunderstanding rise to the surface. As unseen eyes watch from above, the urban terror that has robbed Clarence of loved ones and uprooted his faith in God now threatens to unleash its deadly violence on him.
In the footsteps of his best-selling novel Deadline, author Randy Alcorn tells an exciting story filled with drama. The characters are so real you'll never forget them. In America's racially charged atmosphere, this story offers profound insight concerning our perceptions and conflicts, and points clearly toward the only true hope for racial reconciliation. As you become immersed in its riveting story, Dominion will make you laugh, cry and think.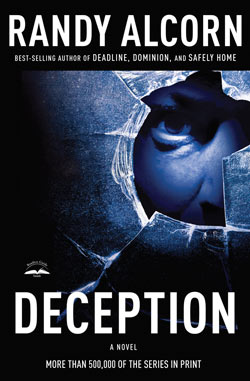 3. Deception (Multnomah, 2008)
From Randy Alcorn's site:
Ollie Chandler is a brilliant and quick-witted homicide detective with exceptional deductive skills and street smarts. He's a police department legend for his off-beat methods that solve crimes and coax confessions. But he's a risk taker and a rule-bender who drives his procedure-conscious superiors crazy. If not for his success rate, he'd have been squeezed out of the detective division years ago.
When a Portland State University professor is found murdered in his home, Ollie is called in. Some strange indications on the professor's body suggest a peculiar means of death. Tests confirm something even more bizarre than Ollie suspected. A motive of revenge seems likely. But revenge for what? The murder mystery gets more complex the deeper Ollie probes.
Deception is a spin-off of Randy's first two novels, Deadline and Dominion.
Here's a 9-minute audio clip of Randy talking about Deception.
This article originally appeared on Andy Naselli's website on May 5, 2009.